This site contains knowledge about ultra-distance cycling (aka ultracycling) in general and being successful in self-supported bikepacking races in particular. The information is useful to anyone wanting to ride a bike as far as possible, regardless of whether they are racing, pursuing a personal challenge or doing more relaxed bike touring.
Part I is about The Rider; there are pages on Rider Comfort, Physical Training, Mental Approach & Strategy, and Rider Safety
Part II concerns The Bike; there are pages on Bike & Components, Accessories, Bike Maintenance & Preparation, and what really Determines Cycling Speed.
Part III contains Race Information; there are pages on the Transcontinental Race, Trans Am Bike Race, Indian Pacific Wheel Race, Other Ultra-Distance Races, plus Race & Equipment Costs.
There are also pages about how to Support This Site and Contact Me.
I post announcements on the Ride Far Facebook page and there is a Ride Far Blog. Recent blog posts include:

Bikepacking Races
For some people, bikepacking races are like bike touring taken to an extreme level and for others they are bike racing returning to its historical roots. The clock never stops between the start and when the finish line is reached up to 7000 km later. Being self-supported / unsupported means that all equipment must be carried by the rider, no outside support is allowed, so no team cars, you're on your own, but you can use all commercial services along the way (restaurants, grocery stores, hotels, bike shops, etc.).
Bikepacking races now exist all over the world, some on-road, some off-road, some mixed. Although it was not the original race in this genre, the Transcontinental Race (TCR) across Europe is the most popular such race and the one that sparked most of the others. The TCR covers approximately 4000 km but has no set route between various checkpoints, which change each year. Most other races follow a fixed, mandatory route. Race winners average 400-450 km per day and most participants cover at least 250 km per day.
It's a niche sport that doesn't receive a lot of media attention, but spectators (aka dot watchers) can follow the riders' progress online because they all carry satellite trackers and racers occasionally post updates on social media. Race organizers also post reports and some general cycling websites report on the bigger races.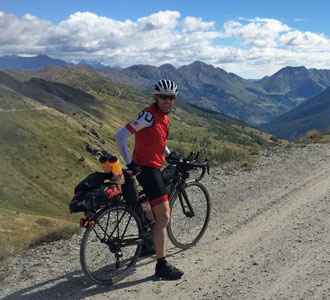 Personal Background
I love riding my bike, and the farther I ride, the happier I am. Hence, Ride Far! Entering a new region and seeing new scenery is what I crave most. After 15+ years of bike touring and cycling purely for fun, in 2013 I heard about the TCR and decided that it was the ultimate test of my passion.
I've now participated in the TCR three times and I regularly ride long distances and explore new regions by bike by myself or with friends without needing a race to motivate me. Find out more on the About Me page, read my personal Ride Reports or follow me on Strava.
I've helped many people to prepare for such races through this website and through personal contact. I also build Ride Far Wheels for people who cannot find stock wheels that meet their practicality, reliability and performance requirements.
Search Topics
To find information on a specific topic, enter a search term below, click on one of the most common keyword tags or view the complete Table of Contents. There is also a page containing Links to Other Bikepacking Websites.
---
---