The Transcontinental Race (TCR, official website) is a self-supported, ultra-distance bikepacking across Europe. The start, finish and the intermediate checkpoints vary each year, but the route is typically around 4000 km long with 4 mountain checkpoints. The typical direction is from NW Europe to SE Europe. Riders choose their own route between the mandatory control points. The clock never stops and riders must ride solo, without support and find all of their supplies at commercial sources along the route.
The pages dedicated to each edition of the race are listed below. This page contains a general introduction and overview of the race format, routes, history, organization and rules of the race. There is a separate page where the results of all editions are summarized and compared.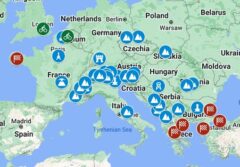 Race Format
The race begins with a mass start, but from then on the participants ride individually. Being self-supported or unsupported means that drafting is not allowed, receiving any form of support from other racers is not allowed, nor is it from friends or family; all food, accommodation, repairs, etc., must be purchased from commercial sources.
After the race starts, the clock never stops until the riders reach the finish. Riders must therefore choose how much time to devote to riding, resting, and refueling each day.
Between the start and finish locations, there are normally 4 control points (aka checkpoints) that must be visited and there is often a section of obligatory "parcours" at each control point, which can be from 5 to 100+ km long. Between the control points, typically a distance of 500 to 1200 km, riders plan their own routes.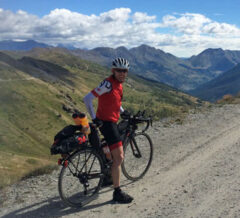 The control points are often located in mountainous regions and the parcours often includes one or multiple difficult climbs. Since the TCR No. 3 in 2015, at least one of the parcours has included a section of unpaved/gravel roads, which can occasionally be unrideable, so participants may have to walk for short distances.
Most people try to use good, paved roads to get between the control points. However, unexpected sections of poorly paved or gravel roads are common. Riders can only use roads that are legal for cyclists and the organizers may ban additional major roads that they deem to be unsafe. Riders often have to re-route on the fly when their planned route turns out to be problematic for various reasons.
Racer positions are monitored using GPS satellite-based tracker devices on participants' bikes that upload their positions every few minutes to a public website for racers and followers to view. Official reports and videos are posted by the race organizers and many participants post updates on social media, which is centered around the Facebook Group.
Riders at the front of the race typically average 400-450 km per day. A finish party is normally organized for the evening of the 15th or 16th day, so the goal of many riders is to arrive in time for that, which requires averaging 250-280 km per day.
A typical equipment setup consists of a road or gravel bike with small bags carrying a minimal amount of gear and supplies plus a good navigation device and good lighting (see Ride Far, Part II: The Bike).
Race Locations
Up to the 2023 TCR, No. 9, 20 different countries have hosted a start, control point or finish location. These countries are listed below ordered by the decreasing number of visits and followed by the race editions that they were featured in. When a control point and parcours spanned two countries, both are counted.
Italy (No. 1, 2, 3, 4, 5, 7, 8, 9)
Belgium (No. 1, 3, 4, 5, 6, 8, 9)
France (No. 2, 3, 4, 7, 7)
Turkey (No. 1, 2, 3, 4)
Montenegro (No. 2, 3, 4, 8)
Greece (No. 5, 6, 9, 9)
Bulgaria (No. 7, 7, 8)
United Kingdom (No. 1, 2)
Austria (No. 6, 7)
Romania (No. 5, 8)
Switzerland (No. 4, 9)
Slovenia (No. 6, 9)
Croatia (No. 3)
Germany (No. 5)
Slovakia (No. 5)
Poland (No. 6)
Bosnia (No. 6)
Serbia (No. 7)
Czechia (No. 8)
Albania (No. 9)
Below is a simplified map showing each location. Click on any location for details, zoom in to see each parcours and press the broken square icon in the top right to view it full-screen. See the pages about each edition of the race (links above) for maps showing only the relevant points and the simplified route for each edition.
The race has typically started in north-western Europe and finished in south-eastern Europe. The only exceptions were in 2019 when the direction was reversed and in 2016, the race finished on the Asian side of the Dardenelles Strait in Turkey.
Organization
Mike Hall founded the race in 2013. Mike won several of the biggest self-supported bicycle races and after doing the World Cycle Race in 2012 and the Tour Divide in 2011, he decided that self-supported bicycle racing could become popular if it fit into people's regular holiday time and that "there was a demand growing for both a European based ultra on a similar scale to the Race Across America, and also an unsupported alternative to the race" (see Bikepacker.com).
During the first leg of Mike's global trip, he saw how impressive the cultural and geographic changes were in the relatively short distance between London and Turkey, so he decided to create a race using that route but also visiting significant places in bike racing history along the way.
Mike's vision worked. After 30 people started the first edition in 2013, word spread and the 101 starting places for the second edition were filled within a week. For the third edition in 2015, 350 applications were received for the 250 starting places, and the number of applications went up to over 1000 by the next year and media interest kept increasing. The success of the race and the demand for other events encouraged people to organize similar events around the world.
In 2013, The Adventurists helped to organize the first race, but after that the race was independently organized by Mike Hall and his team. Mike tragically died in a collision with a car during the 2017 Indian Pacific Wheel Race.

A team of volunteers including Mike's former partner Anna Hall took over the organization of the 2017 edition (see this article on Apidura's blog). In late 2017, it was announced that the race had been transferred to Lost Dot, a not-for-profit organization run by the 2017 organizers. Starting in 2022, Anna Hall began stepping away from her roles as Managing Director and Race Director and hired people to replace her, see this page for more details.
Founding Principles & Rules
In this video, Mike shares some founding principles of the race:

Mike chose to adopt the more risky strategy for an event organizer to emphasize that the TCR is a race rather than a non-competitive challenge for reasons explained in the video below. Note that he's still pleased that many people do approach the event as a personal challenge and that he's happy for the two mindsets to co-exist.
The minimal rules focus on riders being self-sufficient (unsupported) and using reasonably-comparable equipment. Rather than making an almost endless list of rules to cover all scenarios, a simple set of 10 rules are explicitly stated and everything not covered by those is hopefully covered by the implicitly-understood principles of self-supported bike racing. The rules are listed on the riders' brevet cards that they carry during the race and in the Race Manual, an example of which from 2015 is still available on the official website here.
The race manual elaborates on the rules and Mike explained why he prefers this approach instead of having a more rigid and explicit set of rules in this video and this video. There are also two blog posts on the topic of "What is Unsupported?" Part 1 and Part 2.
Equal Opportunities
The physical challenge is only one aspect of the TCR; the mental challenge is normally greater. Unlike most other sports, females don't appear to have an inherent disadvantage compared to males. This was already known to many but was vividly proven in the 2019 TCR, No. 7 when a German woman, Fiona Kohlbinger, took the overall lead before the halfway point and held onto it to the finish and won with a comfortable margin.
Other women have also finished in the top 10 of the TCR and there are multiple instances of women winning other ultra-distance cycling and running races. The only real difference between females and males is that many more males register for the race, but that is something that the organizers try to balance with their selection procedure.
The organizers also want people of all demographic groups to be represented, so certain people automatically receive a race entry. Another goal is that the race should be open to people in all financial positions, so since 2022, a bursary fund has been available to fund people who wouldn't otherwise be able to afford to race.
Evolution of the Rules
In the early editions of the race, all finishers were given a time and finish position, regardless of when they finished, with a small number of time penalties awarded for obvious infractions of illegal road use or not being entirely self-supported. The approach has evolved over the years and riders are now required to reach each control point and the finish before a strict deadline and not violate any other major rule to receive a position in the "General Classification" (GC). Failing to meet these requirements will result in being classified as a "Finisher" but not in the GC.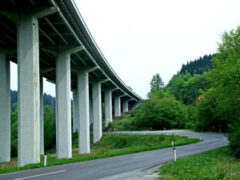 Another change is that the roads participants use and the status of these roads has been far more strictly checked in more recent editions. In TCRs No. 7 and 8, more than 80% of the field received at least one such penalty for using an illegal section of road. This is generally not due to deliberate attempts to cheat; it is mostly because it is very difficult to plan a route that uses only legal roads across such a great distance and so many different countries with different policies. However, penalties must be awarded to discourage people from breaking laws and to make it fair for those who take extra time to find legal alternatives.
In other self-supported races, assistance from non-commercial sources along the route is often accepted if it is available equally to all participants. This could mean a homeowner on the route offering drinks to all riders that they see; these people are often called "trail angels". In contrast to other bikepacking races, taking assistance from non-commercial sources is generally discouraged by the TCR because it is difficult to judge whether it is being fair to all riders. Ideally, all resupply should be from commercial sources, but there are many grey areas and each situation is different, so no universal rule exists.
In the first two editions of the race, some riders rode with other participants but avoided drafting or providing other physical support. This is accepted in many other self-supported bikepacking races, but the emotional, strategic and navigational support that riding together can provide is not entirely within the ethics of self-supported racing.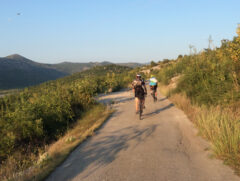 In 2015, a pairs category was therefore introduced. Within the pair, riders can draft, share equipment and supplies, etc. Outside of the pair, the pair must act like a solo rider and be entirely self-sufficient except for using commercial sources. The pairs have a separate classification and riders cannot flip between the two classifications after the race has begun.
It's quite common for solo riders to meet others on the road and they are likely to be riding at a similar pace and heading for the same place. When this happens, having a chat on the road or possibly stopping for food together occurs frequently and IS NOT against the rules; such encounters can be important, memorable moments for many racers. Riding close together for several hours, repeatedly coordinating stops and making all of the same navigational decisions (when options exist) IS against the rules.
It is impossible to define where the line dividing these two situations should be; one guideline that has been stated is that riders should not appear to be riding in a coordinated fashion "for longer than a typical first date", but the organizers assess each situation separately and again it's not possible to have a rigid rule. If they decide that too much time was spent together or the coordination was too strong then the riders will only be eligible for a place as a "Finisher" and not included in the GC.
Race Reputation
The Transcontinental Race is generally recognized as the most prestigious title in the small sport of self-supported, ultra-distance cycling. The media attention that the TCR receives has gradually increased and many cycling brands are keen to partner with the race.
The Race Across AMerica in the USA would be the equivalent in supported ultra-distance cycling, but the two disciplines are reasonably distinct. The Tour Divide, a self-supported mountain bike race through Canada and the USA is much older and is also highly respected, but it lacks the organization of the TCR, so it tends to receive less attention.
There is no monetary value to winning the TCR but the strongest riders are able to secure sponsorship deals with bike and equipment brands.
The following pages contain details about each edition of the race. They focus on the routes ridden and how each race was won, but they also include links to many reports from slower as well as faster riders.
Last minor page modification:
Last significant page update: February, 2023
---
This page is in the The Transcontinental Race section. The next page in this section is:


---