Happy 10th birthday to the The Transcontinental Race! I believe this road.cc article from 10 years ago today (Feb. 7th, 2013) was the first major announcement.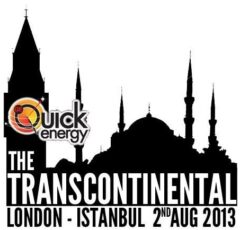 Things were a bit different back then. The original announcement included only one checkpoint between London and Istanbul, which was the Stelvio Pass, but later the Muur van Geraardsbergen was added. There's an archive of the original TCR website on WayBackMachine, the first version of which is from Feb. 16th, 2013 (note the different address and Trans Continental is sometimes 2 words, hence "TCR").
100 places were available, but only 30 people started, with 20 officially finishing the 3200 km route. Kristof Allegaert won in 7.5 days, Juliana Buhring was the fastest (and only) woman (and top 10 overall). Mikko Mäkipää won the spirit of the race award for having a very unique route choice (some things don't change). Here's the official video:

2015 was really the start of the current format, with the following aspects debuting: The start was in Geraardsbergen, there were 4 control points, including the first gravel parcours (Strada dell'Assietta, Italy), the pairs category started, certain people got an automatic entry and a lottery system was used to select the rest of the 250 starters.
Losing Mike Hall in March 2017 caused a lot of uncertainty and changes to the organization. Frank Simons being killed on the first night of the 2017 event was another tragic test for the new organizers.
Cancelling two consecutive editions in 2020 and '21 must have also been a big challenge. It's impressive and wonderful that we can now celebrate 10 years and hopefully there are many, many more to come! I'm sure Mike would be proud and very thankful to those who've continued his legacy.
When did you first hear about the race? Let me know in the comments below.
I posted a version of this in the TCR Facebook group. The comments of people reminiscing are fabuolous, take a look here (you may need to be a group member to view it, but that's easy to do if you have a FB account). A big highlight was Mike Hall's mum, Patricia saying this about the idea her son explained to her after racing around the world in 2012:
"All those wonderful memories and amazing adventures. All the people you meet, all the stories you tell, all the challenges met. Who knew when Mike said to me I've had a bit of an idea whilst competing in that race that might work. That race being The World Race in 2012. Little did he know how it would take off !!! All of you TCR warriors, dot watchers, volunteers and relatives of cyclists – this very proud mum says thank you for helping to keep his dream alive." – Patricia Hall, Februaury 9th, 2023.
Here are all the pages about the first 10 years of the TCR:

My TCR Experience and Other Adventures It's Lead Me To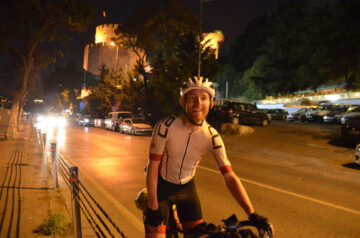 After I read that first road.cc article in February 2013, I started to figure out optimal routes, but I wasn't brave enough to race the TCR until the 2014 edition. Training for and completing the 2014 race in a respectable time was life-changing for me.
I launched a very early version of this website in late 2015 after I had to scratch from the 2015 TCR for unavoidable reasons. I read so many reports of other people who had scratched for what seemed like avoidable reasons. I wanted to share what I'd learned and the things that others had taught me to help future participants in self-supported races to be better prepared. The site received a major design overhaul, re-branding ("Ride Far") and expansion of the content in early 2017.
I raced the TCR again in 2016, finishing 25th of the 156 solo starters and averaging 300 km per day. In 2018, I raced the TransAtlanticWay race in Ireland (TAW), finishing 12th of 130 starters, averaging 350 km per day – I don't think I'll ever do better than that performance.
In 2019, I volunteered as the control point manager for TCR No. 7 at CP3 in Austria, which was several days of far more intense work than I had expected. In 2020 and '22, I raced the Swiss Ultracycling CHallenge (SUCH), finishing both events inside my modest goals. For 2023, I plan to race the TCR again, for the first time in 7 years.
Thank you to the TCR community and organizers for the last 10 years of inspiration, memories and camaraderie.