If you want to transport more luggage on your bike than is possible with bikepacking bags that strap to the frame and seatpost then rear panniers are the best option. If your bike doesn't have mounting points for a standard rear rack then the Tailfin pannier rack and bag setup is a great solution.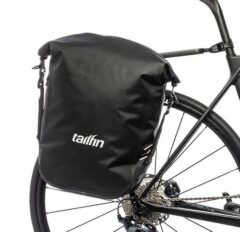 The Tailfin rack attaches securely to almost any bike with the supplied thru-axle or quick release skewer plus the strap around the seatpost. The bags are designed to work with the rack and so they attach very securely. Overall, the setup works very well and the bags are well made, but there are some negatives and there are alternatives that might be better options for some people.
Tailfin Aeropack
Tailfin also sell a version of their rack without the pannier mounts that can be used to mount the Tailfin AeroPack rack-top bag, which I've reviewed separately: Tailfin pannier rack and side pannier bags. The current review focuses on the Tailfin rack with pannier mounts and the panniers themselves. It is possible to mount the Aeropack at the same time as the side panniers.
Tailfin Pannier Rack
Design and Fit
The Tailfin racks are designed and manufactured well and there are a variety of axles to choose from to ensure almost universal bike compatibility. Once fixed to the bike, the rack seems to be as stable as a standard rack mounted using regular fixing bolts. I don't go into detail of how the rack attaches to the bike because full information and instructional videos are available on Tailfin's website.
The design of the Tailfin rack is a lot more sleek than traditional racks, and so looks more at home on a performance-oriented bike. It is also extremely easy to mount, remove and replace if you don't always need to carry luggage.
Bikes that aren't designed for a rear rack often have relatively short chainstays so if a rack is added then the rear panniers can be too far forwards and the rider's heels can strike them while pedalling. Tailfin have therefore designed the position and angle of the pannier mount to put the bags quite far back and be angled away from the rider's feet so that heel interference shouldn't be a problem.
Downsides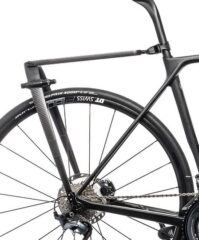 Despite the rack doing it's job well, there were three things that I found to be less than ideal:
The rack is one-size-fits-all, so the hoop that goes over the rear wheel is extremely high and wide to give clearance for very large tires. This looks a little odd when using standard road or touring tires. Racks from other brands are available in different sizes so the rack height and gap around the tire can be optimized. The length of the strut and attachment to the seatpost is also not adjustable, so the position and angle of the rack cannot be adjusted to suit the bike and specific mounting location.
There are a few rubber bumpers and shims that ensure a tight fit of the rack and so that it doesn't get scratched when folding, etc. Some of these weren't stuck down properly, so occasionally fell off even when I was first mounting the rack and I eventually lost a couple of small pieces. I'm ordering replacements and will find some serious glue to secure them all properly. [EDIT: More recent models use a different method of attaching these bumpers, which is far more secure.]
There is no good way to solidly mount a rear light. Lights can be clipped to the back of the bags, but that is not particularly solid, doesn't hold the light at the optimal angle very well, and if you switch between the pannier bags and the Aeropack then you need to keep transferring the light(s). A set of mounting holes 50mm apart, as is found on most standard racks should be added under the upper section of the rack's loop. Certain models of rear light can be strapped around the top or side of the main loop, but that doesn't work with all lights and I wouldn't be satisfied with that solution. Tailfin offer two different accessories for the Aeropack rack-top bag that provide a light mount, but there is nothing available for the rack alone, which is disappointing.
Weight & Price
There are two versions of the Tailfin rack with pannier mounts, one carbon and one aluminum, that vary in weight and price. The carbon model officially weighs 330 grams, but the one I used weighed 370 grams. The full aluminum version officially weighs 480 grams.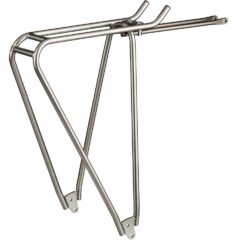 The aluminum Tailfin rack is a similar weight to some standard aluminum racks that cost one third the price (e.g., I often use a Racktime Light-It rack that costs under 50 euros and weighs 520 grams) and even the carbon version is significantly heavier than the Tubus Airy titanium rack that costs half the price (available for 150 euros, the one that's on my wife's bike weighs 300 grams but the official weight is 360 grams). However, some ingenuity is needed to mount such racks to bikes without standard mounting points. I've previously done so on a couple of bikes, but it's often not straightforward, the extra mounting hardware adds a little more weight, and on some bikes it's just not an option. The simplicity with which the Tailfin mounts to almost any bike makes it the only possibility for many people.
Putting side panniers on a rear rack has a massive negative effect on aerodynamics and so decreases cycling speed and efficiency significantly (unfortunately, precise numbers are not readily available). This effect is far larger than the marginal effect of a couple hundred grams of weight. Therefore, if you've chosen to use side panniers then you're already not in the fast-touring / bikepacking mindset and it's highly debatable whether you should be factoring weight into the decision of what components to use.
The maximum load of the Tailfin rack is 9 kg per side, which is less than most standard racks that are typically rated for 25-30 kg total. However, someone needing to haul more than 18 kg is likely to use a different bike that is compatible with a standard rear rack, so this shouldn't be a concern for most potential Tailfin users.
Alternatives
I would generally recommend the Tailfin setup for people who want to use side panniers but have a bike that doesn't have mounting points for a rear rack. However, there are some alternative options that should also be considered:
Find a way to attach a standard rack to your bike. This is normally not straightforward and would be the topic of another long blog post, plus it's simply not possible or advisable with some bikes. Even so, I've had success doing this myself and it gives me more freedom to choose my rack and bags.
Tow a trailer. The trailer is generally the worst solution because it adds a lot of weight, increases tyre rolling resistance and greatly restricts bike manoeuvrability. I wouldn't recommended this unless you really need to haul a massive amount of stuff.
Buy a new bike or frame that is designed to have a rear rack mounted. This is always something that I look for when buying a bike frame, but for most people the extra cost will not be justified.
Take less stuff that will fit in bikepacking bags that attach without a rear rack. However, I've often seen people with overstuffed bikepacking bags hanging off of every part of their bike, who would have been much better off using a rear rack and panniers.
Tailfin SL22 and UD22 Pannier Bags
The rail on the Tailfin racks that the side panniers attach to has a special form that only works with Tailfin's own pannier bags unless extensions are added that cost a further 45 euros. Because the rail and pannier attachment system are designed as one, they work extremely well together and the bags are more securely attached than are universal-fitting bags on standard racks. However, I found the difference in attachment security to not really be noticeable when riding on most terrain.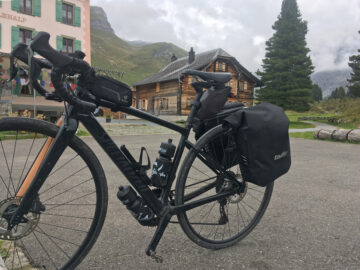 Tailfin offer two versions of their bags that differ in the durability and weight of the materials used; the SL22 costs 120 euros and is super-light but not so durable, while the UD22 costs 135 euros and is standard weight (very close to Ortlieb bags of similar volume at 870 grams) and has no concerns with durability. I used the UD22 and I think most people would be better with that version. As mentioned above, if you want the lightweight model for a race situation then I would first reconsider whether you shouldn't be taking less stuff and using a different bag setup that doesn't require panniers.
The bags themselves are well-made, function reasonably well and are competitively priced. The bags are delivered with shims so they can be mounted to standard racks.
The bags come with shoulder straps, but unlike Ortlieb bags, there's no way of hooking the strap to the outside of the bag to secure it while riding, you either have to remove the strap each time to pack it inside the bag or roll it up with the bag top itself, neither of which is ideal. The only way to carry the bag without the shoulder strap is to grab the buckle on the side, which is again not ideal. The bag has an internal mesh pocket and a tiny zippered pocket on the outside that is so small that I'm not sure why they bothered putting it there.
Personally, I don't like bags of this style that have roll-top closures and lack reasonably-sized external pockets. After this style was pioneered by Ortlieb, many brands now sell similar products and the style has become a very popular choice because they are 100% waterproof without needing a rain-cover.
I find that using panniers with a top flap opening instead of a roll-top and that have decent-sized top and side external pockets makes it so much easier to access gear and keep it organized. I therefore waste less time when grabbing something out of my bags quickly and when re-packing. Such bag designs are not normally fully waterproof but they'll survive brief, light showers without a problem. When you do need to ride in extreme weather, it's easy to add small pack-away rain covers that give complete protection, but such situations aren't common and I rarely need to use them.
Other people will probably be happy with the bag style offered by Tailfin, but even within that style the Tailfin bags are not ideal. For me the bags were disappointing and I would recommend buying the rail extensions to have a wider choice of pannier bags or using a different rack if you have the option.
Conclusions
If you have a bike that doesn't have mounting points for a rear rack then the Tailfin setup is by far the easiest way to put side panniers on your bike and it's a good option for many people in that situation. The rack attaches very securely and the pannier bags work well if you're happy with roll-top bags, so the reasonably high total cost is justifiable, although I wouldn't spend the extra money on the carbon version of the rack and I wouldn't choose the lightweight bags.
If you have a bike that has mounting points for a standard rack then I wouldn't recommend the Tailfin rack and panniers. The rack is more expensive than similar-weight alternatives that offer more practical features like proper light mounts and are directly compatible with all pannier models. The Tailfin rack does have the advantages of having a more racy style and it's very easy to remove, so some people may still find it to be a better option for them.
Full Disclosure
Tailfin contacted me and supplied the carbon rack and UD 22 side panniers for free along with the Aeropack Trunk bag reviewed separately: Tailfin Aeropack review. I tried not to let this relationship affect my opinion of their product and I reviewed the value as if I had purchased the items myself.
Edits
This article was updated in April 2022 to use the updated names for the Tailfin racks. The racks themselves did not changed.