This page contains information about the 2018 Transcontinental Race No6. See the Overview page for a general introduction to the Transcontinental Race (TCR). See also the official TCR page.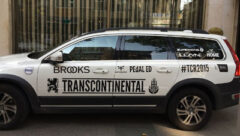 Route Overview
For the fourth consecutive year, the race started in Geraardsbergen, Belgium with a short loop around the town and then an ascent of the cobbled climb, the Muur van Geraardsbergen. My video from the start of the 2015 TCR is below:
After the first two editions of the TCR started on Saturday morning in London, UK, and the next three on Friday evening/night in Geraardsbergen, Belgium, this edition started on Sunday evening, at 22:00 on Sunday, July 29th. It's unclear what was the main motivation for this change.
The finish was also the same as the previous year, in Kalabaka, Greece, near the Meteora monasteries, with the final parcours passing the monasteries that stand on pinnacles of rock above the town.
Despite the start and finish being in the same locations, all four checkpoints were in countries that hadn't had a checkpoint in any previous edition. The simplified map of the route is below.
The first checkpoint was in the Austrian Alps, the Bielerhöhe Pass. The pass is over 2000 meters elevation and is on the Rhine-Danube watershed. The upper part of the pass is a toll road, so tends to have very little traffic.
The second checkpoint started on the highest road in Slovenia, at Mangart Sedlo and the parcours descended from the summit down into the Soča Valley before climbing the Vrśić Pass.
Similar to Transcontinental Race No. 5, 2017, riders had to head north between CP2 and CP3, going all the way up to the most northern checkpoint to be used by the TCR (bearing in mind that London, UK, is further north but was used as the start for Transcontinental Race No. 1, 2013 and Transcontinental Race No. 2, 2014). Riders had to cross into Poland before ascending the unpaved Karkonosze Pass and descending back into the Czechia.
CP4 was the Bjelašnica mountain above Sarajevo, where some of the 1984 Winter Olympics events were held. The facilities were subsequently used by the military during the Bosnian War. This marks the second time that the race has visited a site that was important during the war because Transcontinental Race No. 3, 2015 visited Vukovar, Croatia, where a lot of fighting occurred.
Here is the simplified map of the route:
The typical total distance ridden was similar to the previous two years at almost 4,000 km, but the finish party was one day later, at the end of the 16th day.

The extra day before the party will ensure that more finishers are able to attend, although it may encourage some earlier finishers to return home beforehand and not wait for the party. The deadline for arriving at the finish and being awarded a place in the general classification results will be unchanged at 17 days.
Last minor page modification:
Last significant page update: December, 2018
---
This page is in the The Transcontinental Race section. The next page in this section is:


---