Shimano have finally announced details of their new Dura Ace 9200 and Ultegra 8100 groupsets.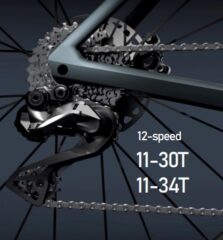 The highlights in terms of gearing are as follows:
An extra cog on the cassette, 12 instead of 11, but the new cassettes will fit on current wheels.
Narrow-range cassettes are effectively dead, with the narrowest range cassettes (11-30 in the Ultegra group) being wider than almost anyone was riding on a road bike less than 10 years ago.
The shifters can now be wireless, but don't have to be. The derailleurs are still connected to an internal battery, but with thinner wires than before.
There is no option for mechanical / cable-actuated derailleurs.
There are also some key points in terms of braking:
The ratio of brake lever movement to pad movement has been modified to be non-linear to improve brake modulation. The "Servo Wave" technology has already been used in Shimano MTB and gravel brakes.
Brake pad clearance has been increased very slightly to reduce rubbing after hard braking.
Bleeding/replacing the hydraulic fluid should be easier and less messy because the bleed port has a threaded connection rather than an unreliable push-fit interface.
Mechanical brake options will be offered, but Shimano stated that availability of these is going to be very limited and no-one has seen these yet.
Many other websites have described the full specifications (e.g., see the article at BikeRumor) and given first ride impressions. This post focuses on a few aspects that have been overlooked by other sites or are more specifically of interest to ultra-distance cyclists.
Gearing
It's easy to say that 11 cogs are enough, but it's always an advantage when you can increase the range of the cassette without making the jumps between cogs any bigger. The new Shimano 11-34 12-speed cassettes are easily the best-spaced wide-range 12-speed road cassettes available.
Last year, I added a section to the Gear Ratios page on 12-speed cassettes. Looking at the spacing in all the 12-speed road cassettes with a largest cog of at least 30 teeth by Campagnolo, KMC and SRAM, I found that every one of them had at least one jump between cogs of more than 15%, which I find to be the limit for a comfortable change in cadence between gears.
Given that there are 11-speed cassettes with a similar range but with more consistent cog spacing, I couldn't see any advantage of going to a 12-speed groupset. Shimano has finally shown the other brands how to use the 12th cog wisely.
With Shimano's 11-34 12-speed cassettes there is finally a cassette that makes a switch to 12-speed gearing offer an advantage in gear choice. The tooth progression is 11-12-13-14-15-17-19-21-24-27-30-34, so there is a maximum difference of 14.2%. Plus, even the Dura Ace rear derailleur is compatible with this wide-range cassette.
The tighter spacing of the narrower-range cassettes (11-28 and 11-30) is something that only strong riders who compete in fast races will appreciate, so I would recommend the 11-34 option to almost everyone.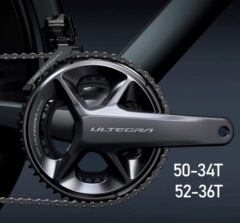 Chainring sizes will mostly remain unchanged, with the 50-34 option being what most people will find most useful, but 52-36 is also available for those who don't mind a slightly lower cadence on steep climbs and who want to keep pedaling at very high speeds. The Dura Ace group also includes a bigger option for strong riders in flat terrain.
If you want lower gears from a Shimano 12-speed road group then you'll have to wait until Shimano updates their GRX gravel group to be 12-speed. That will hopefully happen some time in 2022, but it could be later.
I've written some very popular blog posts highlighting the overly-limited range of crank arm lengths available (see here and here). Shimano have responded to the trend of more people using shorter cranks by adding a shorter crank option of 160 mm at both the Ultegra and Dura Ace levels.
Gear Controls
Many people are excited about the gear levers now being connected to the derailleurs without wires. Personally, I'm more excited to learn that there is still an option to connect the levers with a wire.
Using a wired connection will yield a 50% increase in battery life (according to Shimano), will eliminate one potential failure point of the system, and will avoid the need to check battery status in the levers and carry a spare when doing ultra-distance rides.
The new wires are significantly smaller than the old wires, so it should be no problem to pass a wire into the frame and when it's strapped to the rear brake cable it almost disappears. I therefore can't see a reason to not connect the levers by wire and it's great that Shimano have kept this as an option.
There are new models of the satellite shifters for the bar tops. I've used various versions of these because I find them to be very useful, but the ergonomics are not ideal on any that I've tried. The new version was not ready for the product testers to try during the launch and details are not yet available.
Apparently the gear controls for aerobar mounting are going to remain the same. Those units use the old, larger wire size, so an adapter will be sold to step down the wire size. This makes me wonder whether the current satellite shifters or other levers will also work when using this wire adapter. I'll certainly be experimenting when I get the chance.
Price-Point Options
It's absolutely no surprise that the new Dura Ace group doesn't have a version with mechanical gears. Dura Ace should offer the pinnacle of performance, and that is clearly achieved with electronic shifting.
It's much more surprising that there is no Ultegra group with mechanical gears because this will leave a very large gap between the price of the current mechanical-only 105 groupset and the electronic-only Ultegra groupset.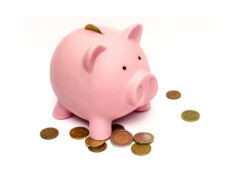 It will therefore be very interesting to see how Shimano plans to fill the price and technology gap that the lack of an updated Ultegra mechanical gear group is going to leave. There are a few options of how Shimano might proceed:
There could be a new 12-speed (or possibly 11-speed) 105-level Di2 group launched to fill the price gap. SRAM recently trickled down their electronic shifting to their third-tier Rival group, so this would be consistent with that.
Maybe a 12-speed mechanical Ultegra group will be announced before or at the same time as a 12-speed mechanical 105 group is announced.
Maybe 105 won't be updated, so it will remain with 11-speed mechanical gears. The current Ultegra 11-speed group with mechanical gears (8000 series) could then be continued to keep filling the price gap.
What will happen here is not going to be known any time soon. Some bike brands are offering 2022 model year bikes with the new 9200 Dura Ace groupset, but almost none are offering 2022 bikes with the new 8100 Ultegra groupset.
Production bikes equipped with Ultegra 8100 won't be widely available until the 2023 model year bikes arrive in late 2022. Even aftermarket availability of Ultegra 8100 groupsets probably won't be until well into 2022, and may then be quite limited.
This means that although 105 normally gets updated 1 year after Ultegra, if there is an updated 105 group (7100 series) then I expect it won't be announced until mid-2023, in time for the 2024 model-year bikes to be sold with it.
The further complication is the continued increase in popularity of gravel bikes and therefore the importance of the Shimano GRX groups. Gravel bikes with Shimano GRX sales are certainly taking market share away from Shimano Ultegra and 105-equipped road bikes, so it will be interesting to see how Shimano moves forwards with all these different versions.
As mentioned above, the top-level GRX group will certainly get updated with a 12-speed Di2 version, probably in 2022. How Shimano then decides to continue the road and gravel groups and how to give options at all the price points that the bike brands want to sell bikes at will be interesting to see.
Conclusions
Are the advantages of the new groups worth upgrading the group on a current bike or do they make a new bike purchase a good option?
Personally, having a wire running between the levers and derailleurs has never bothered me or caused a problem, so I wouldn't change my group for that reason. Plus, even with the new groups I'd probably connect the levers with a wire for the reasons stated above.
The spacing on the 12-speed 11-34 cassette is excellent, but the spacing on the 11-speed Shimano 11-32 cassette is already very good (it also has no gaps over 15%). When I do want extra gear range on my road bike, I can install a SRAM 11-36 11-speed cassette, which just works with the Ultegra 8000-series rear derailleur on my bike and the spacing is tolerable (just two jumps are slightly over 15% difference). I'm therefore not desperately in need of the new gearing options that 2×12 gives.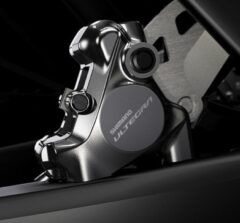 Disc brakes, especially hydraulic versions, are very susceptible to making annoying noises. The improvements to the brakes should reduce this, but it appears that the current GRX brakes have very similar characteristics to the new Dura Ace and Ultegra brakes, and I know from experience that the GRX brakes are not immune to making noise after heavy braking. I'm therefore far from convinced that the new brakes are going to be a game changer.
Overall, the changes between the 11-speed and 12-speed Di2 groups aren't enough to make me want to purchase a new groupset or to buy a complete bike to obtain it.
On the other hand, if I wanted a new bike equipped with Di2 gearing then I would certainly want the improvements offered by the new 12-speed groups. The big problem would then be that getting an Ultegra-equipped bike might not be possible for another 12+ months and the Dura Ace bikes that are available are too expensive for most people.
Given that everyone wants to wait for the new 12-speed parts, you might think that current 11-speed Di2 bikes and parts are going to be cleared out at discount prices. However, I doubt that will happen because demand is still so much higher than supply right now, and that doesn't look like it will change in the next year or so. I therefore doubt that large discounts will be offered on existing stock because demand is so high.
As I mentioned above, the 2×12 gearing options offered by SRAM and Campagnolo don't even offer an advantage over what's available with 2×11 gearing, so I wouldn't consider those brands. In addition, there are many other aspects that I dislike about the SRAM and Campagnolo offerings that are outside the scope of this article.
Overall, I'm excited about the new Dura Ace and Ultegra groups and Shimano have made sensible updates and improvements to their top-end groups. However, the differences from the previous generation group are not that great and issues with supply mean that the new groups won't be an option for many people for a while.