Links to general websites about bikepacking and ultra-distance cycling are listed below. The other parts of this website contain pages about most topics related to bikepacking and include many other external links: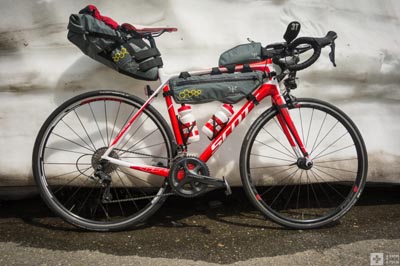 Ultra-Distance Cycling
Ultra-distance cycling – General Wikipedia page
DotWatcher – List of bikepacking races, race reports, results, etc.
TrackLeaders – Hosts tracking for many major bikepacking races and events
Long- and Ultra-distance cycling forum – part of bikeforums.net
The Adventure Syndicate – Female-focused endurance cycling website
Ultra MTB – Mountain bike focused
UltraMarathon Cycling Association – Focused on supported ultra-distance races
Randonneurs.es – Spanish
Bikepacking & Gravel Biking
Bikepacking.com
Bikepacking.net
Bear Bones Bikepacking
Gravel Cyclist
ADVNTR – Aventure Cycling
MTB-Cast
The Radivist
Riding Gravel
General Cycling Media with Ultra-Distance Cycling Content
road.cc – UK-based general cycling website
CyclingTips – Australia-based general cycling website
Global Cycling Network – YouTube channel
DC Rainmaker – In-depth reviews of cycling gadgets
Gran Fondo Cycling
Bike Touring
Cycling About
Trento Bike Pages
Crazy Guy On A Bike
Bike Sleep Bike
Bicycle Travellers
Adventure Cycling Association (USA)
Cycling UK – formerly Cyclists' Touring Club (CTC)
Far Ride
Warm Showers
Podcasts & Vlogs
The Bike Show – podcast with touring and ultra-distance coverage
The Hidden Athlete – podcast interviewing endurance athletes
Race Ride Seek – Curve Cycling podcast
Turn Cycling – Vlogs about ultra-distance racing and product reviews
Francis Cade – General cycling vlog with occasional bikepacking content
Peak Torque – Engineer who dispels lots of marketing myths in the bike industry (about frame stiffness, aerodynamics, etc.)
Hambini – Similar to Peak Torque, but with more focus on bearings and a rather intense presentation style
Blogs and Tour Reports
Apidura Blog
Jack's Wanderlust
Torsten Frank (mostly in German)
Chris Bennett
Juliana Buhring
The Loong Way Home
A Swiss With A Pulse
Cycling Challenge
CycloClimbing
Bike Wanderer
Gypsy By Trade
Route-Planning for Cyclists
Some of these sites require subscriptions to use some or all of their route planning tools, but some are free.
Strava
Strava Heat map
Komoot
mapmyride
Ride With GPS
AllTrails
bikemap
Plot a Route
Garmin Connect
EasyRoute
BRouter
General Mapping
Google Maps
ViaMichelin
Bing Maps
OpenStreetMap (download OSM maps for GPS devices)
maps.me
Ride Analysis Tools
Strava – Basic ride analysis with segment leader boards
Garmin – Basic ride analysis
VeloViewer – Advanced ride analysis, including the "Explorer" scores that track how many sections of the map you've ridden through
Wandrer – Keep track of which roads you have and haven't ridden
Cycling Analytics – Includes analysis tools for power data
Di2 Stats – Analyze your gear combination usage and shift patterns (see Better Shifting for info' on Shimano Di2 components)
SRAM AXS analysis – Similar to Di2 Stats
DCR Analyzer – Compare data from separate power meters
Coaching and Training
Training Peaks – Ride analysis and coaching
TrainerRoad – Online coaching
Zwift – Virtual riding, racing and coaching with a home-trainer bike
SufferFest – Training programs and videos
Indexes of Mountain Passes
Climb By Bike
Cycling Cols
Col Collective
BIG Cycling
Highest paved roads in the Alps
Dangerous Roads
Quaeldich – German
Club des Cent Cols – French
Cols Cyclisme – French
Salite – Italian
CicloManiac – Italian
Altimetrias – Spanish
Technical Info and Bike Maintenance
AeroLab Tech Blog
Silca Tech Blog
Park Tool Repair Help
Sheldon Brown – Tech info and repair guide
Bicycle mechanics form – part of bikeforums.net
Geometry Geeks – Database of frame geometries, comparison tool and bike fitter index
Frame Builders index
Bicycle Rolling Resistance – Independent tests of more popular tires
Tire pressure: Silca calculator, FLO Cycling table (see halfway down page)
Stem height: Calculator, Table
Wheel spoke length: WheelPro, DT Swiss
Fork trail: Calculator
Other
Bike Hub – Cycling & the Law – UK focused
Bicycle Law – US focused
Complete Tri – Many people get into ultra-distance cycling by starting out with triathlons
Please Contact Me if you know of a relevant website that is missing from these lists. To make this list, the site either needs to have at least some focus on ultra-distance cycling or to offer something that can't be found elsewhere or is better than all other similar options.
Last minor page modification:
Last significant page update: April, 2021