As explained in my previous blog post, I'm doing the Swiss Ultracycling CHallenge or SUCH bikepacking race next week. It's been a few years since I fully described my bike setup and equipment list and people keep asking about it, so here are the full details.
Regular readers of this site will know that I'm very picky about every component of my bike and item of equipment that I take on an ultra-distance bike race. I'm not a weight weenie, I prefer practicality and to be adequately prepared for most situations because I know that equipment and bike weight doesn't slow down riding speed as much as most people think and it's more important to focus on minimizing stationary time and avoiding delays.
The SUCH race will be by far my shortest ultra-distance race yet (about 900 km compared to the 2,000-4,000 km I've done in previous events) and I'm familiar with most of the route, meaning that I'm confident about where to find everything I'll need along the way. Even so, my setup and packing list wouldn't change much if I was doing a much longer race in less familiar regions except that I won't be taking a sleeping system this time (minimal bivvy bag, small inflatable mattress and lightweight sleeping bag).
Bike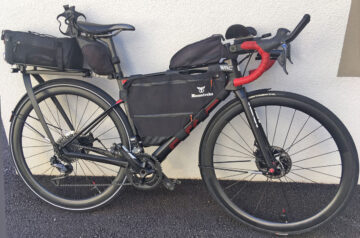 I'm riding my 2020 BMC RoadMachine. It's a carbon, disc brake road bike designed for endurance/comfort road cycling but still with a reasonably aggressive geometry.
The BMC is much lighter than the carbon gravel or aluminum touring bikes that I have (each different generations of the Specialized Diverge) and still has just enough space for decent-width road tires and full fenders. It doesn't have mounts for fenders or a rear rack, but I've found ways to fit those securely.

Components
Accessories
Rear rack & bag: Tailfin carbon rack with a Mountain Equipment Co-op rack-top bag. I recently reviewed the Tailfin AeroPack bag and rack system. I don't like the roll-top closure, lack of pockets and mounting position of the AeroPack, so I've found another rack-top bag that the Tailfin mounting system can attach to and I extended the rack's seatpost bracket to get the bag in a better position. The bag is easy to access with a full, wrap-around zipper and side pockets, and I have a rain-cover for heavy downpours.
Frame bag: Moosetreks Road full frame bag – there's not enough room in my 51cm frame for an upper frame bag and bottles, so a full frame bag with the bottles behind the saddle is the most space-efficient method. I found this bag on Amazon that's a perfect fit and so avoided paying extra for something custom. Everyone thinks that full frame bags affect bike handling when it's windy, but the side surface area is no bigger than a rear pannier and it's not connected to the steering, so it's no problem even in strong crosswinds.

Zéfal 1 liter water bottles in Arundel Mandible cages on an XLab Turbo Wing saddle mount

Top-tube bag: Topeak Fuel Tank – nice and large and I've secured it firmly with one bolt and two straps.
Saddle bag: Topeak MondoPack – perfect size for my extended tool kit and spare parts (full list below).
Backpack: Minimalist drawstring gym-style backpack to temporarily carry extra food in, but stays packed away most of the time.
Bottles & cages: XLab Turbo Wing dual bottle cage mount behind the saddle – this is very rigid and puts the bottles in a reasonably easy-to-access position. The Arundel Mandible cages provide the necessary firm grip on the bottles so they bottles don't eject on bumpy terrain. Two Zéfal Magnum 1 liter water bottles.
Fenders: PDW Full Metal Fenders – sleek-looking, totally rigid and provide excellent coverage; it required some ingenuity to mount them to this frame and fork, but I eventually found good solutions. Fenders make riding in the rain so much more comfortable and keep everything (including my legs) much cleaner even when on dry roads.
Lights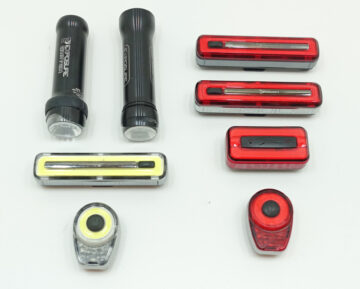 Front lights: This is my first race without dynamo-powered lighting, so I have multiple lights and backups. My main headlights is an Exposure Sirius plus a reserve Exposure Switch and battery packs (see below). On twisty descents, I clip the reserve light onto my helmet mount to point it around corners, but the Sirius mounted under the bars is more than sufficient most of the time. For flashing front lights in low light and at dusk/dawn, I have a Moon Sports Ring and Nebula.
Rear lights: Two mounts wiith four lights so I won't run out of power. All the lights are Moon Sports models because they have an excellent range of mounts and the battery life and flashing modes are excellent. Two Nebulas, one Ring and one Arcturus.
Electronics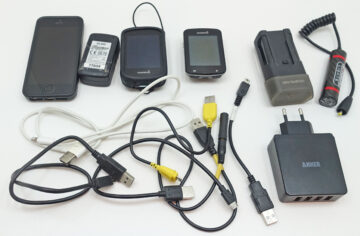 Clothing, etc.
Shorts: Standard Craft bib-shorts. I find most chamois pads work fine for me as long as they're not too bulky and I use a good saddle. Since I plan to use hotels each night, I'll be able to hand-wash them, so I won't need to take a spare pair.
Jersey & undershirt: Castelli mid-weight jersey and Odlo lightweight undershirt. I normally prefer to wear a one-piece outfit, where the jersey and shorts are one piece because I find it cooler and more comfortable than having bib straps. However, all of my one-piece suits are almost worn out or the colors are too dark for night riding, so I'm currently looking for good replacements.
Gloves: Specialized BG Gel, which have excellent padding.
Shoes & socks: Giro Terraduro shoes with Specialized BG insoles and Louis Garneau socks.


Rain clothing

Rain clothing: Vaude Spray waterproof cycling jacket and Vaude Drop overshorts. Sealskinz waterproof socks and Polaris Loki neoprene gloves. Outdoor Research foldable baseball cap (to keep rain out of my eyes). As mentioned above, full-coverage fenders are an important part of my rain protection so I can keep riding in almost any conditions.
Cool-weather clothing: Castelli Nanoflex arm warmers and knee warmers. Lightweight Castelli vest and a neck buff.
Glasses: Tifosi Seek glasses with light photochromatic lenses so they are still usable in low light.
Helmet: Kask Valegro – I find this helmet to be comfortable and it's extremely well ventilated. The neck buff is long enough to also be a helmet liner in cool conditions.
Off-bike clothing: Lightweight trousers, underwear, socks and t-shirt. The trousers are good for pre- and post-race use, I use the t-shirt and underwear to sleep in.
Utensils: Plastic double-ended spoon/fork and a tiny knife on the Leatherman Squirt multi-tool.
Toiletries: Miniature sunblock, deodorant, toothpaste and toothbrush, emergency toilet paper. Mini tub of chamois cream – I don't use it regularly, but there's occasionally a need.
First aid: A few plasters, a small bandage and 2 pain-killer tablets – I wouldn't know what to do with anything in a more complete kit.
Tools & Spares
Tools: IceToolz mini allen key set, 2 to 6mm sizes plus a 6-8mm adapter (for pedals and crank), double-ended Torx 25/10 tool and mini open-ended 8mm wrench. I prefer individual tools compared to a multi-tool because they're easier to use in tight places.

Tool kit and spare parts

Multi-tool: Leatherman Squirt – I take this because I occasionally need a pair of minimal pliers, plus the tool has 2 flat-blade screwdrivers, tiny scissors and a knife.
Tubes & valve parts: 3 inner tubes, valve extender (in case I can't find replacement tubes with long enough valves), presta-shrader valve adapter (in case my pump breaks and I need to use a gas station pump), valve core tightener.
Tube & tire repair: 2 x Park Tool tire levers, 6 tube patches, sandpaper and vulcanizing glue (I don't trust pre-glued patches because I've had too many fail, especially in hot weather), and tire boot.
Pump: Topeak Morph – this has a flip-out foot and short hose, making it much easier to get a sufficient amount of pressure in the tires. I'm using the SKS AirSpy tire pressure gauges so I don't need to guess about my tire pressure or if I have a slow leak because the current pressure is shown in an app on my phone (AirSpy review coming soon).
Chain repair: chain oil in mini bottle (eye drop bottles work well), mini chain tool, quick link, spare pair of chain links and chain pin, and thin rubber gloves.
Wheel repair: 2 rear-wheel and 1 front-wheel spokes (taped under seat-stay), spoke nipple tool (part of the chain tool) and bladed spoke holder.
Di2 repair: Di2 cable tool, 1 meter long Di2 wire, 'A' and 'B' junction boxes, Di2 battery. This should allow me to fix most Di2 issues. If the race was longer, I'd also take a stripped-down Di2 charger.
Other spares: 2 pairs of brake pads, derailleur hanger, M5 x 15 mm screw, electrical tape (wrapped around pump), 6 zip ties (inside handlebar)
Security: BBB mini lock.