This page contains information about the 2013 Transcontinental Race No1. See the Overview page for a general introduction to the Transcontinental Race (TCR). See also the official TCR page.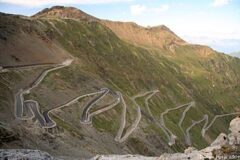 Route Summary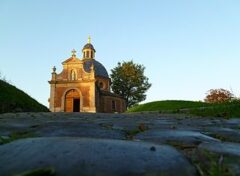 The race started on Westminster Bridge, in front of the houses of parliament in London, UK on 3rd August, 2013, at 8:00am. Everyone then rode to Dover to take a ferry across the English Channel to Dunkerque or Calais. The first checkpoint was one of the steep cobbled climbs often used in the Tour of Flanders professional bike race: the Muur van Geraardsbergen in Belgium. The leaders arrived before the end of the first day after riding about 275 km and doing the ferry crossing.
There was only one more checkpoint, which was at the top of the Stelvio Pass – the second highest paved pass in the Alps at an elevation of 2,757 meters. To get there, most people stayed to the north of the French Vosges mountains, but there was then a division between some people riding via Germany and Austria whilst others went further south via Switzerland. The leaders climbed the Stelvio in dry conditions, but much of the field experienced cold and wet weather. Unfortunately, two people were not aware that they should climb the Stelvio from the more famous east side, and took the more direct route from Switzerland via the Umbrail Pass, so did not receive the control stamp.
The Stelvio Pass was less than halfway to Istanbul. Many people took the longer, but flatter route staying further north heading towards the Drava river valley and into the Balkans, others took a slightly more direct but hillier southerly route, passing close to the Adriatic Sea. A few people used the option of riding down the Italian coast and taking a ferry across the Adriatic. Only one person entered Turkey via Greece, all others took a more northerly route via Bulgaria. The typical total distance ridden was 3200 to 3400 km. The map at the bottom of this page shows the simplified routes.

To view specific rider tracks, go to Trackleaders and select All Rider Tracks in the Map Layers menu. Here is the simplified map:
Results Highlights
The official results are here. Everyone who registered was given a starting place, with 30 people making it to the start line. 20 people officially finished in Istanbul, 18 of whom arrived before the party at the end of the 15th day.
Kristof Allegaert (Belgium) won, with a time of 7 days, 13 hours, and 45 minutes. He lead at both Control Points and had a lead of more than 24 hours by the finish. Richard Dunnett (UK) had been 3rd at CP1, but moved up to 2nd by CP2 and kept that position at the finish. 3 other riders spent time in the top 3, with Matt Wilkins (Australia) getting the final step on the podium at the finish.
Juliana Buhring (Germany) was the only woman to start, and finished in 9th place overall, in just over 12 days. See the Complete Results section below for some further analyses. This figure shows the progress of each rider, click to enlarge it.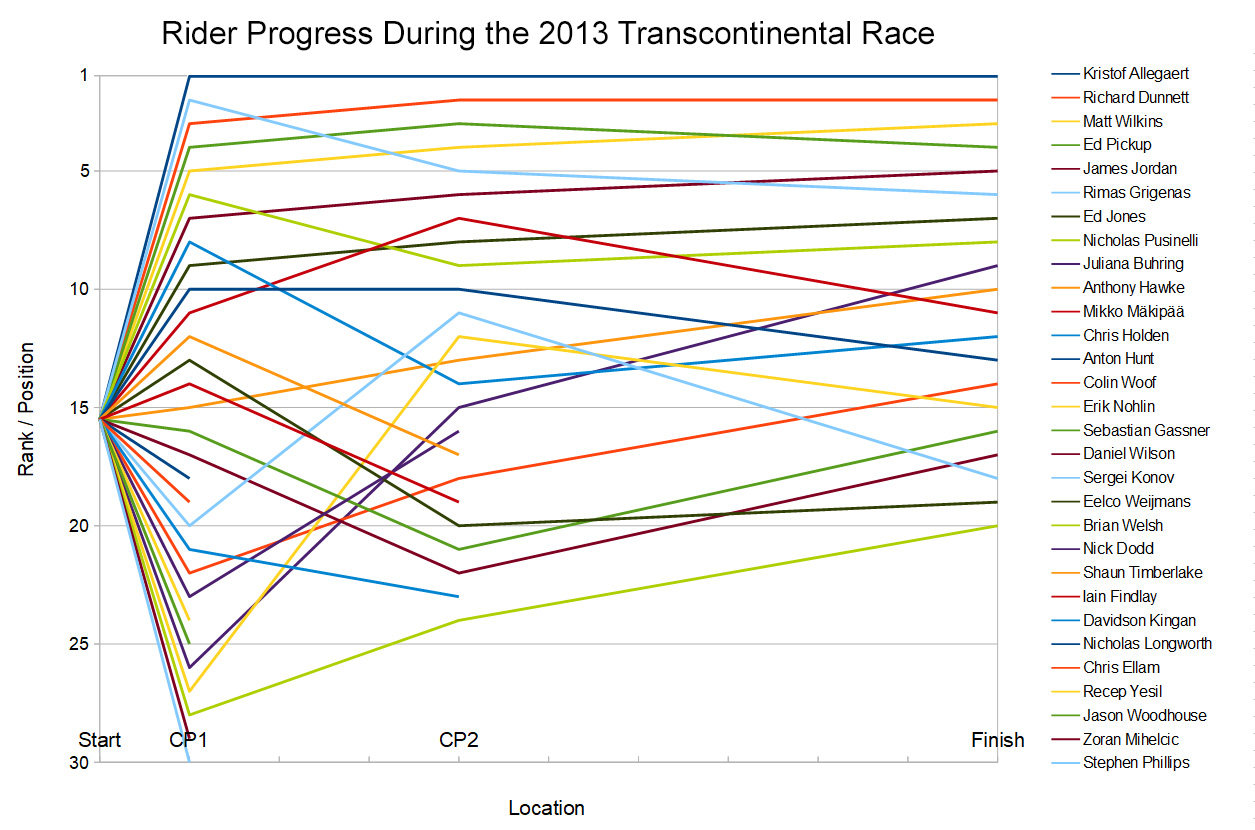 Race Reports & Media
Official reports:
Media/sponsor reports:
Others:
Complete Results & Individual Ride Reports
Position
Time
Name
Rank at CP
1*-2-F
Ride Report
1
7d 13h 45m
Kristof Allegaert
1-1-1
Report
2
8d 15h 50m
Richard Dunnett
3-2-2
Report
3
9d 9h 37m
Matt Wilkins
5-4-3
4
9d 16h 21m
Ed Pickup
4-3-4
Report
5
10d 6h 24m
James Jordan
7-6-5
Report
6
11d 7h 21m
Rimas Grigenas
2-5-6
Report
7
11d 12h 40m
Ed Jones
9-8-7
8
11d 22h 31m
Nicholas Pusinelli
6-9-8
9
12d 2h 52m
Juliana Buhring
26-15-9
Report, Photos
10
12d 23h 52m
Anthony Hawke
15-13-10
11
13d 5h 7m
Mikko Mäkipää
11-7-11
Report
12
13d 8h 1m
Chris Holden
8-14-12
13
13d 9h 49m
Anton Hunt
10-10-13
Video
14
13d 19h 23m
Colin Woof
22-18-14
Report, Video
15
14d 3h 50m
Erik Nohlin
27-12-15
Video: 1, 2, 3, 4
16
14d 7h 10m
Sebastian Gassner **
16-21-16
17
14d 7h 10m
Daniel Wilson **
17-21-17
18
14d 8h 5m
Sergei Konov
20-11-18
Report
19
14d 14h 6m
Eelco Weijmans
13-20-19
Report
20
17d 8h 40m
Brian Welsh
28-24-20
Report
DNF
Nick Dodd
23-16-x
DNF
Shaun Timberlake
12-17-x
Announcement
DNF
Iain Findlay
14-19-x
Report
DNF
Davidson Kingan
21-23-x
DNF
Nicholas Longworth
18-x
Preview
DNF
Chris Ellam
19-x
DNF
Recep Yesil ***
24-x
Video: 1, 2, 3, 4
DNF
Jason Woodhouse
25-x
DNF
Zoran Mihelcic
28-x
Report
DNF
Stephen Phillips
29-x
Notes:
* Official placings for CP1 were only available for the first 10 people, other placings determined via tracker data and so are unofficial and imprecise.
** Sebastian Gassner & Daniel Wilson climbed CP2 from the wrong side, but received no penalty.
*** Recep Yesil was marked as a scratch at CP2 due to taking motorized transport, but was also listed with a finish time, which explains why some reports state that there were 21 finishers.
Last minor page modification:
Last significant page update: February, 2023
---
This page is in the The Transcontinental Race section. The next page in this section is:


---