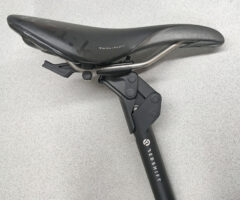 Price: US$230
Weight: 543 grams (27.2mm x 350mm version)
Travel: 35mm
The RedShift ShockStop suspension seatpost makes a massive improvement in riding comfort and reduces fatigue when gravel biking and doing long-distance cycling.
When I recently reviewed the Cirrus Kinekt 2.1 Suspension Seatpost, I was impressed by the comfort that it offered and how much better it performed than previous models in the genre. Because I'd already seen that the RedShift ShockStop suspension stem worked so well, I wondered how RedShift's new seatpost would compare. Very soon into testing, I discovered that there's really not much competition because the RedShift ShockStop outperforms the Cirrus Kinekt on almost every criterion.
I wrote a more general discussion about the advantages of suspension seatposts and the different technologies used in my previous post. I also included a comparison table giving the specifications of the major models of suspension seatposts that are currently available, some of which I've tried myself. I would only put the Cirrus Kinekt in the same category as the RedShift ShockStop, so much of this review is focused on comparing these two.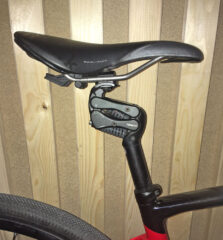 Like the Cirrus Kinekt, the ShockStop post takes the edge off of bumps well and allows you to not concentrate so hard on choosing your line when riding rough stuff. The two major differences between the posts are that the RedShift post has far better damping in the rebound phase, so the post feels less 'bouncy', and the RedShift post responds far less to pedalling input, so feels more like a rigid post on smoother terrain. Minor differences are that the RedShift seatpost looks a bit sleeker and is slightly lighter and cheaper.
Ride Tuning
I spent some time tuning the Cirrus Kinekt seatpost to get the feel firm enough when pedalling but soft enough to give comfort. I was impressed by how easy it was to tune and how much control you have over the firmness. In the end, I settled on having it quite a bit firmer than is the default for my weight.
In contrast, I set the RedShift ShockStop post to the default firmness for my weight and it immediately felt great, there was barely any need for fine-tuning. Tuning is a bit less simple on the RedShift post (you need to remove it from the frame to do so), but despite playing with a few different settings, I found that wasn't really necessary for me. It seems that the RedShift post performs very well over a wide range of settings, whereas with the Cirrus Kinekt I had to spend time dialling it in and finding the sweet spot.
Weight, Aesthetics & Price
The RedShift post has three more minor advantages over the Cirrus Kinekt: It looks a lot sleeker, people might not even notice that there's anything special about the RedShift post whereas the Cirrus Kinekt is obviously something different, the RedShift post also weighs marginally less (actual weights: 543 vs 575 grams; claimed weights: 497 vs 525 grams) and is slightly cheaper than the Cirrus Kinekt (US$230 compared to $250).
Over $200 for a seatpost seems quite expensive, but it's an upgrade that you'll certainly notice and it will have a marked improvement on your ride experience, being more comfortable, less fatiguing and overall more enjoyable. People often spend far more money on perceived 'upgrades' that only make a marginal difference.
Reliability & Compatibility
Some people may worry about reliability and having one more part on their bike that could fail compared to using a rigid seatpost. While it's true that basic telescopic seatposts often quickly develop vertical and rotational play, the RedShift post has a far superior design that uses a pivoting parellologram saddle clamp rather than a simple telescopic action. This avoids the off-axis loading that simple telescopic posts are subjected to. In addition, the pivots in the RedShift post are high quality units and I've now been using their ShockStop stem for more than 2 years on a lot of very rough gravel rides and I've done some ultra-distance bikepacking races without the pivots showing any signs of wear or developing any play – it's still functioning as good as new, so I'm confident that RedShift have done a similarly good job with designing this seatpost and so it will be as reliable as their stem.
Some seatposts have frustratingly fiddly saddle clamp mechanisms and some need to be overtightened to stop the saddle from tilting when riding over bumps – I'm pleased to report that the RedShift ShockStop has neither of these issues. As with the Cirrus Kinekt, the RedShift post could cause problems for mounting some bags that attach to both the seatpost and saddle rails because the distance between the two attachment points varies. Even so, the far sleeker design of the RedShift post at least means that it should interfere less with such bags than would the bulkier Ciruss Kinekt.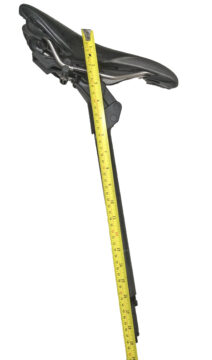 RedShift offer a Di2 internal battery mount for just $3 extra. It holds the battery in place well but can cause a problem because the Di2 battery extends far below the bottom of the seatpost, see the photo (click it to enlarge).
Due to a bottle cage rivnut in the middle of the seat tube on one of my bikes (a 52cm 2017 Specialized Diverge carbon), I couldn't insert the post far enough down for my normal saddle height because the Di2 battery couldn't pass the back of the rivnut. Fortunately, this frame has three bottle cage rivnuts on the seat tube to give cage height options and since I was already using the lower mounting position, I carefully removed the upper rivnut with a drill and covered the area with insulation tape. This is not ideal and may void the frame warranty (but I could probably replace it with a new rivnut if I ever needed to).
On another bike, also a 52 cm Specialized but with only one pair of rivnuts, I had no such problem. Other frames may have obstructions for other reasons.
I therefore recommend checking that your frame's seat tube is obstruction-free down to 49 cm below your saddle height when using an internal Di2 battery in the RedShift post; when not using the battery then you'd need about 6 cm less clearance. The Cirrus Kinekt doesn't have this problem because the post is hollow so a battery can be fully inserted and the post could even but cut down if needed.
Unfortunately, more and more new frames are using proprietary, non-round seatposts, and so this type of post won't be an option. The post is only available in the most-common 27.2 mm round size, but shims are easily available if your frame has a larger, round tube.
Conclusions
In summary, any reservations that I had about whether to leave a suspension post on my ultra-distance bike permanently completely disappeared since I starting using this post. It makes the ride so much more comfortable and is not really noticeable when pedaling normally that there are really no downsides to having it.
In fact, I like this post so much that I'm currently researching ways to have a custom shim fabricated so that it will fit in my new lightweight pure road/racing bike (a 2020 BMC RoadMachine) that uses a slightly larger but non-round seatpost. That's currently the only thing stopping that bike from becoming my go-to long distance machine.
Full disclosure: Cirrus Kinekt provided me with a seatpost for free to test. Because I was impressed, I wanted something similar for my wife's bike, so I decided to use the opportunity to test the RedShift post and ordered that as a regular customer. Just before it arrived, RedShift contacted me asking if I wanted a test unit without knowing that I'd recently ordered one; they therefore refunded my payment and so I ended up receiving both the Cirrus and RedShift posts for free, but I've tried to not let this affect my judgment.