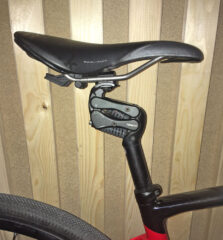 Price: US$250
Weight: 575 grams (27.2mm x 350mm version)
Travel: 35mm
Gravel bike suspension
Some newer gravel bikes incorporate minor suspension in the front or rear of the bike. Suspension not only improves comfort and performance when venturing off-road, but may also be useful for people who stay primarily on paved roads but want to maximize their ability to ride further by improving comfort.
Fortunately, you don't need to buy a new bike to get a small amount of suspension. Suspension seatposts are now available to take the edge off of bumps that can be added to almost any bike that uses a round seat tube, including the Cirrus Kinekt 2.1 post that I review here. I've previously also tested the RedShift ShockStop stem that does an excellent job of improving front-end comfort, traction, and even speed on certain terrains.
Suspension seatposts
Suspension seatposts have a long history, with various styles and designs available. The most basic design, often found on city bikes, uses a simple telescopic shaft. Because seat tubes are tilted towards the rear of the bike, this design is less than ideal for absorbing bumps, which act more directly up and down. In addition, the narrow shaft and off-axis loading often means that such posts don't have good longevity.
Designs that allow the saddle to move straight up and down instead of in line with the seat tube are therefore preferable. They require a more complex parallelogram linkage, and are therefore more expensive, but several models are currently available.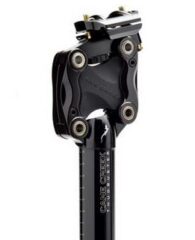 The Cane Creek ThudBuster ST has been around for a long time and my wife has used one on the back of our tandem with some success, although we were never entirely pleased with it because the simple elastomer damper gave a rebound that was too strong while at the same time not being that sensitive to smaller bumps. Different elastomers are available, but we never found one that gave an ideal ride. There is now a smaller and much lighter version available called the Cane Creek eeSilk.
Suspension that uses springs tend to perform better and be more tunable than suspension that uses elastomers. The three suspension seatposts with parallelogram linkages and adjustable spring dampers are the Cirrus Kinekt that I test below plus the SR Suntour SP12 NCX and the RedShift ShockStop, which I have since reviewed here.
There are also some rigid seat posts that are designed to maximize the amount of flex and so offer some comfort while at the same time adding barely any extra weight. I've ridden two of the better-rated posts in this category, the Specialized CG-R (formerly Cobl Gblr) and Ritchey WCS Carbon Link FlexLogic.
I've found the suspension effect of these pivot-less designs to be very marginal compared to a rigid post. Differences in saddle padding and tire pressure are certainly far more noticeable than the minimal flex offered by such posts, so I rate them as not being that effective and certainly not comparable to a real suspension seatpost. Because of the subtle effect that these posts have, the best way to measure their performance is in the lab, which James Huang at BikeRadar did a few years ago.
Comparison Table
Most of the suspension seatposts that are available as of late 2019 are listed in the table below along with the most important characteristics.
* Weight is as given by manufacturer for the standard-length 27.2 mm version.
** Some manufacturers list the setback / offset for an unweighted position and some for when the saddle is weighted, making these values not entirely comparable.
Cirrus Kinekt 2.1 suspension seatpost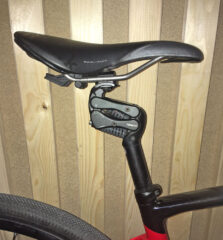 Advantages
I've been testing the Cirrus Kinekt post (formerly also called the BodyFloat) extensively over a variety of terrains and have found it to perform very well.
I was particularly impressed with how well the stiffness of the Kinekt seatpost could be tuned by using different springs to make major changes and then fine-tuned with an adjusting bolt on the back of the post. After some experimentation, I found a setting that allowed the post to feel rigid and uncompressed most of the time, but then easily compressed to absorb bumps when I did hit them.
Other people may prefer to set the stiffness a bit softer so that it feels as if they are floating along on a seatpost that is always slightly compressed and reacts to even the slightest roughness. The post worked well at such a setting, but I didn't like the way it felt when riding.
When riding on unpaved/gravel roads, bumps are felt most when descending at higher speeds, but in those situations I generally stay slightly elevated without any weight on the saddle, so the post had no effect. The times when the post was most useful was when I was sitting in the saddle and pedalling on flat or uphill terrain that was rough and bumpy, in which case it was a major comfort boost to have a significantly smoother ride and I felt more efficient because I wasn't losing energy due to being bounced around or needing to rise out of the saddle too often.
As well as using the post on some quite extreme gravel rides in the Alps, I've also used it for some long-distance road rides of up to 200 km. Having suspension obviously has a far lesser effect when road riding on smoother surfaces, but when rides got longer then I felt that taking the edge off of some of the occasional bumps helped me to stay fresher and more comfortable for longer. Our roads in Switzerland are generally pretty good quality, I imagine that in regions with roads in worse condition the seatpost would be an even bigger bonus.
The post also works well on the back of a tandem, where people often use suspension seatposts because the stoker can't be aware of all bumps that are approaching. We only had a chance to use it for one ride, when it worked well, but I've seen reports from other tandem riders that have used it extensively and rated it highly, see this thread.
Disadvantages
The Kinekt seatpost has major advantages for gravel and light off-road riding and lesser but still positive advantages for long-distance riding, but what are the disadvantages?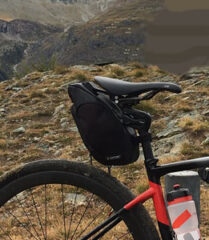 The price of the Kinekt post is quire high at US$249 and slightly more than the RedShift ShockStop (US$229) or Cane Creek ThudBuster (US$170), but less than the Cane Creek eeSilk (US$289) and a lot more than the ST Suntour SP12 NCX (US$110).
The post is naturally far more complex than a rigid post, which could cause concerns for reliability. However, the post is very well built and has shown zero signs of wear after I've put it through some pretty extreme conditions and a reasonable amount of distance, so for me that shouldn't be a concern, but I'll update this in case I notice anything. Of course, the longer it last, the easier it is to justify the extra cost.
The post is quite heavy, I measured my 27.2mm x 350mm version at 575 grams, so at least 300 grams more than most rigid posts. I normally don't worry about weight because it makes far less of an effect to cycling speed that most people expect. However, at about 300 grams of extra weight then you need to start to consider whether it's worth the trade-off.
The official weight is slightly less at 525 grams, but this is still 30-50 grams more than the official weight of the RedShift ShockStop or Cane Creek ThudBuster ST. There is also a version of the Kinekt post with a carbon fiber shaft which they claim reduces the weight by about 50 grams but costs an additional US$80. The ST Suntour SP12 NCX suspension seatpost is the cheapest model of this style but is significantly heavier at 765 grams. The most expensive model is the eeSilk, that only weighs 295 grams but also has the shortest suspension travel and can't be fine-tuned.
My modelling work predicts that the 300 grams of extra weight for the Kinekt post compared to a rigid post will only add about 20 seconds for every 100 km ridden on typical terrain. That amount of time can probably be recouped due to the slight comfort and efficiency gains even when riding on good-quality paved roads, and even more so on poorer surfaces.
There is a wide variety of saddle clamp mechanisms on different seat posts, very few of which are easy to use and some of which are a serious puzzle to figure out, and some clamps don't even hold the saddle position very well. I'd rate the Kinekt seatpost quite well in this aspect because I figured it out quickly, it wasn't too fiddly, and once tightened properly the position and angle of the saddle didn't change when riding.
Three diameters and two lengths of the Kinekt seatpost are available, so a version should exist for almost anyone who has a round seat post, even if a shim might be needed on some frames. Unfortunately, more and more frames are now using proprietary, non-round seat posts, which eliminates the option of using any other post. The lower section of the post is hollow, so putting a Di2 battery inside is no problem.
When installing the post, note that it doesn't have as much setback as many road seat posts, with just 12 mm instead of the more common 20-25 mm. You should therefore make sure that you measure your previous saddle setback and try to match it. In terms of saddle height, even though it feels like I have the spring set so that the saddle doesn't compress just from my bodyweight, I've found that I need to put the initial saddle height about 5 mm higher than I'm used to so that I have the same sensation of leg extension when pedalling.
The post may interfere with how some large seatpost bags are mounted. Personally, I prefer to use a rack-top bag because it is far easier to access and far more stable than an extended seatpost bag, but it isn't always possible to mount a rear rack on all bikes.
Conclusions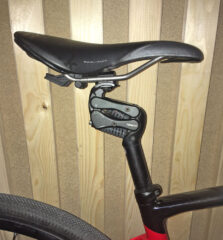 The comfort that this post adds when riding rough/gravel roads and light trails is impressive. The extra traction I get from the bike not bouncing around as much is also welcome. This all allows me to go a bit faster, explore a bit further, and have even more fun doing so. I would therefore recommend the Kinekt suspension seapost to people looking to make the most out of their gravel bike.
Would I recommend this post for people looking to improve comfort for long/ultra-distance riding on paved roads? Having a bike that can absorb even minor bumps has been shown to increase pedalling efficiency slightly and such bumps can easily contribute to fatigue on long rides. I found that the positive effects of the extra comfort and slight efficiency enhancements exceeded the negative effect of the very minor effect that the extra weight has on average speed, so I believe that I'd be able to ride at least as fast and probably further using this post compared to a rigid model. So I'd generally recommend it as enhancing the performance of a bike made for ultra-distance riding.
As I mentioned above, the Kinekt seatpost is certainly better than the Cane Creek Thudbusdter in terms of ride feel and tune-ability, but I haven't had a chance to test the similar RedShift ShockStop post (update 6 months later: I've now fully tested the RedShift post, see my review here). I've found that rigid seatposts that are marketed as offering extra flex make a very marginal difference and I certainly wouldn't put them in the same category.