As always, I focused on products aimed at bikepacking and ultra-distance cycling during my visit to Eurobike 2019. I noticed some promising trends in the industry and in the show itself, plus lots of interesting products to peer at and fondle. Click the images to see larger versions.
General trends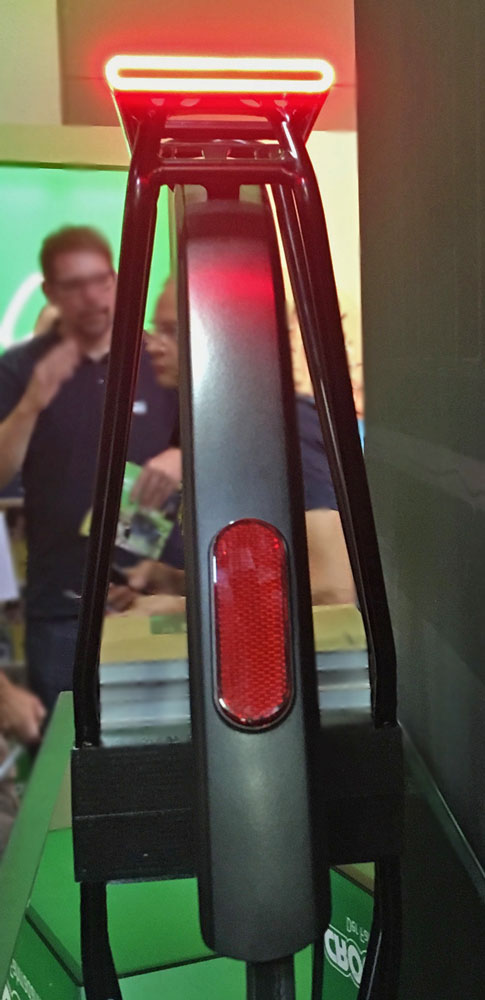 The first general trend was that although we've all seen that bike frames, parts and components are getting more and more integrated, this year I noticed that this is now also happening for some accessories like bike lights.
I saw lights integrated into seatposts, saddles, rear racks, handlebars, and fenders/mudguards. This can sometimes be a negative because having the parts integrated can reduce the freedom to select each piece independently to get the optimal setup. However, integrating parts gives a much cleaner look and it will hopefully mean that more bikes are delivered with lights as standard features so that people are encouraged to ride even when it's dark (instead of using their cars) and to be safer when doing so.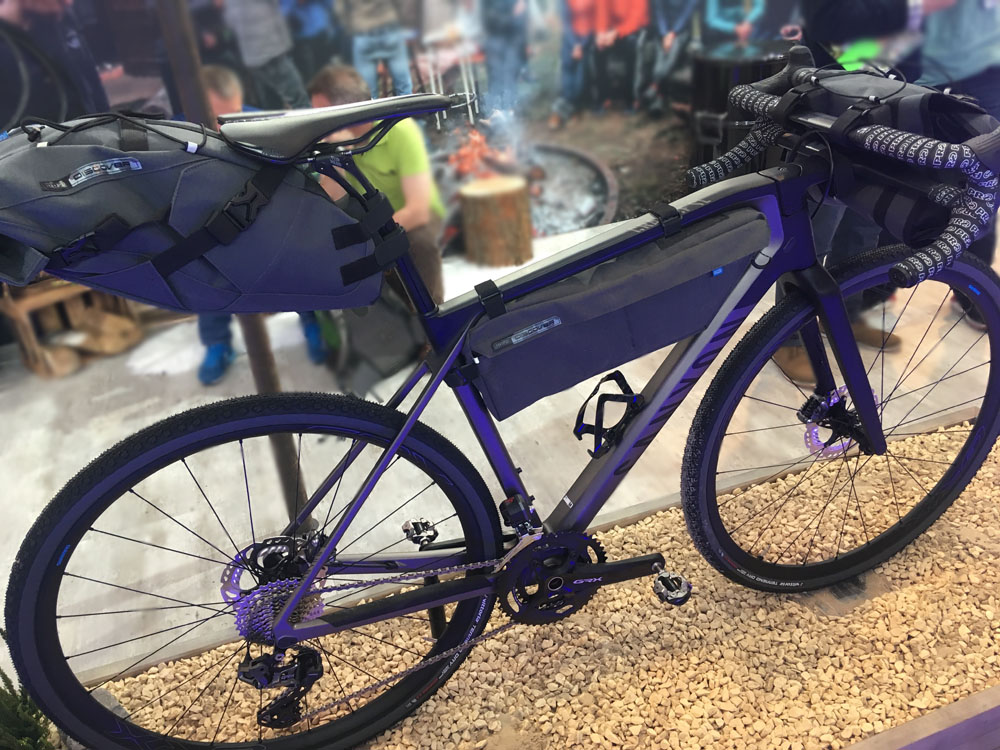 Second, bikepacking bags are now totally mainstream. Just a few years ago there were a limited number of small manufacturers producing bikepacking bags, often on a very small scale. Now all of the major bike bag brands offer models that attach without racks. In addition, Shimano's accessory brand Pro launched a set of bikepacking bags along with their new GRX gravel/adventure groupset (see photo). Furthermore, I saw such bags being shown by several largely-unknown Asian brands.
Having mass production and distribution of bikepacking bags means that there are now options available that cost much less than the cheapest options did a few years ago. Most of the original small brands appear to still be around and are continuing to expand their product lines. Such brands are generally differentiating themselves and maintaining their value compared to the mass production options by keeping a high level of quality and offering their bags in more versions and always innovating. Overall, this should be good for the consumer with an increasing number of options and at a wider range of prices.

My third observation is that many people have lamented the fact that most major bike brands have been abandoning Eurobike during the past few years, instead now organizing their own events to launch products and meet their dealers. I find this to be a positive trend because seeing dozens of versions of almost identical bike frames that mainly differ in the name on the sticker and the bottom bracket 'standard' used was never particularly interesting to me.
I far prefer looking at bike components and accessories, and for that Eurobike is an excellent opportunity to see new products and other items that I simply wasn't aware of beforehand. So here's a round-up of what I found most interesting, including electronics, bags, components, clothing, plus one bike.
Electronics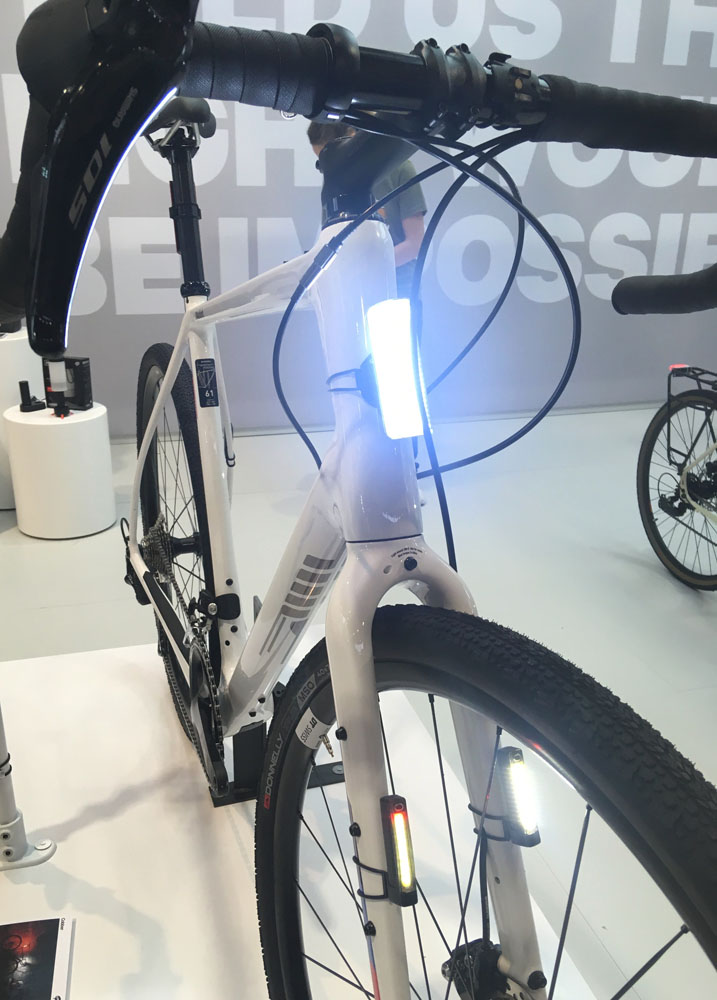 The Knog Cobber lights are the most innovative lights I've seen for a while. LEDs illuminate the entire surface and the lights are shaped to partially wrap around bike tubes and give excellent side visibility. Flashing options include a wave-like effect that travels across the light horizontally and is far more visually effective than similar patterns that I've seen on simpler, flat lights.
I've often disliked the aesthetics of Knog lights, but the Cobber lights are a whole new direction that I really like. The version in the photo is the 'Big' model, but there are also Mid and Lil' versions available that are the same width and same curved shape but shorter.
The brightness and run-time statistics look pretty decent, but they are relatively expensive for commuter / be-seen lights. However, they could be worth the money if initial impressions prove valid. Apparently Knog had to approach a lot of manufacturers before they found one that agreed that their design vision was possible to produce, so I imagine that production costs weren't cheap.

I didn't find any interesting new dynamo-powered lights. It seems that many of the major dynamo light manufacturers are currently launching more products for the fast-growing e-bike market, and not as much for dynamo setups. Hopefully any new light and lens technology developed for the e-bike market will eventually make it into dynamo-powered lights.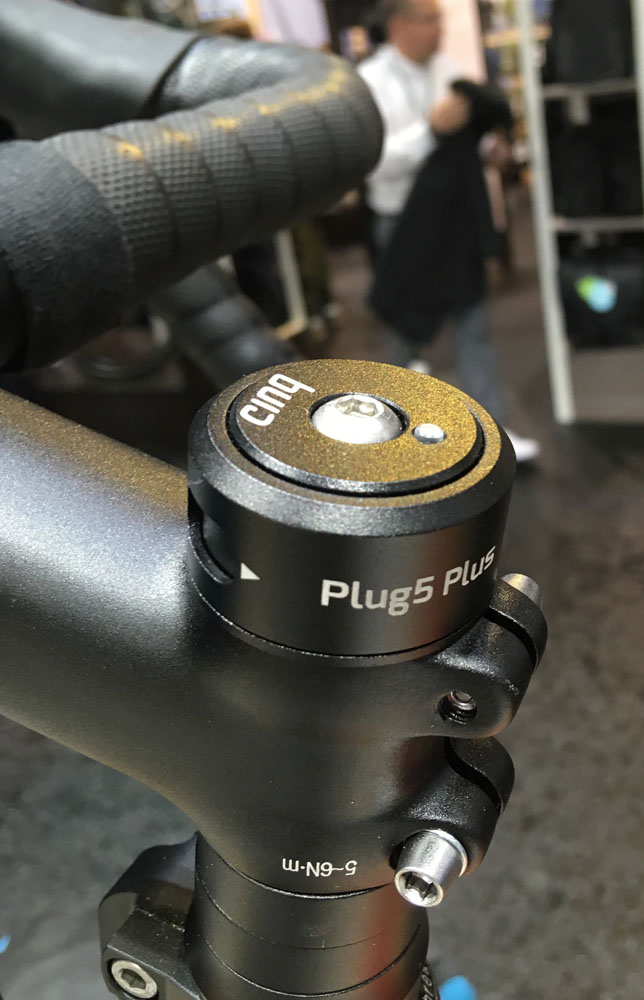 The latest version of The Plug by Cinq is the Plug5 Plus. This is a far more advanced charger than previous versions that I've used or seen. The ability to turn a cover around to close and protect the charging port is a big improvement, as is the integrated cache battery. The output is USB-C instead of USB, probably to keep everything more compact, but adaptors or cables are available to connect all devices.
Unfortunately, you still need access to the bottom of your fork's steerer column to run the wiring into the base of The Plug, which is something that is less and less common on modern carbon forks. Plus, the internal diameter of the fork must be at least 24.5 mm. This might therefore still be something that works better on a traditional touring bike and steel fork, but a few carbon forks do have these properties.

Bags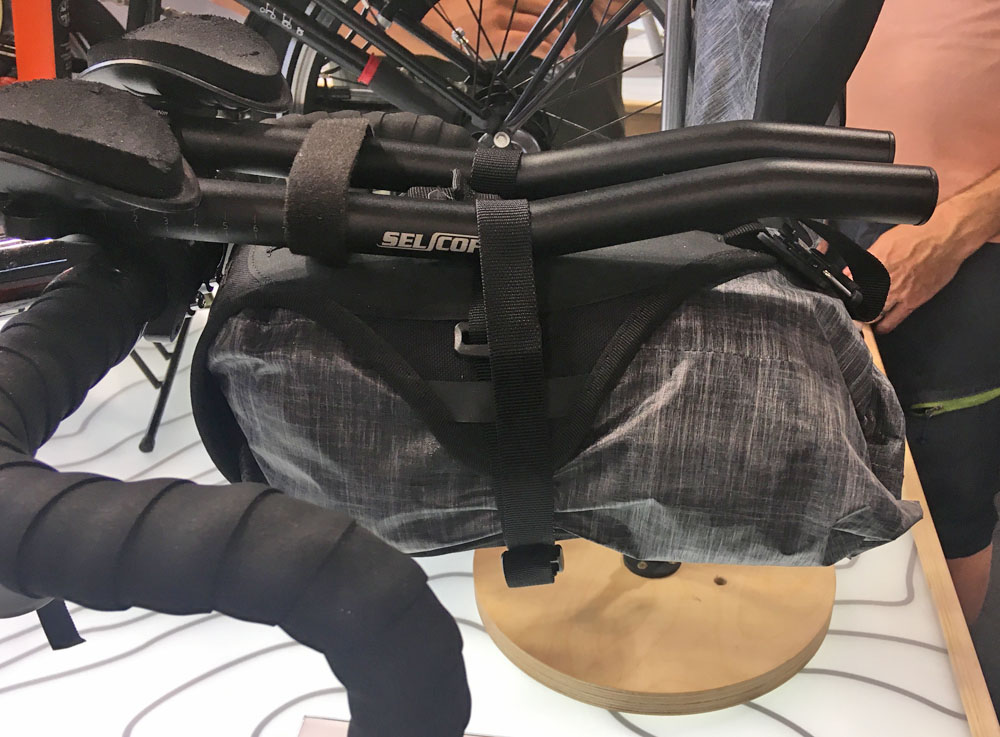 Restrap are modifying their seatpost bag harness to mount a bag beneath the aerobars to make use of that valuable storage space (see photo). Many people have improvised methods of strapping a bag in that position, but this looks like an interesting new option, although shorter people will need to consider whether it interferes with their front light mounting.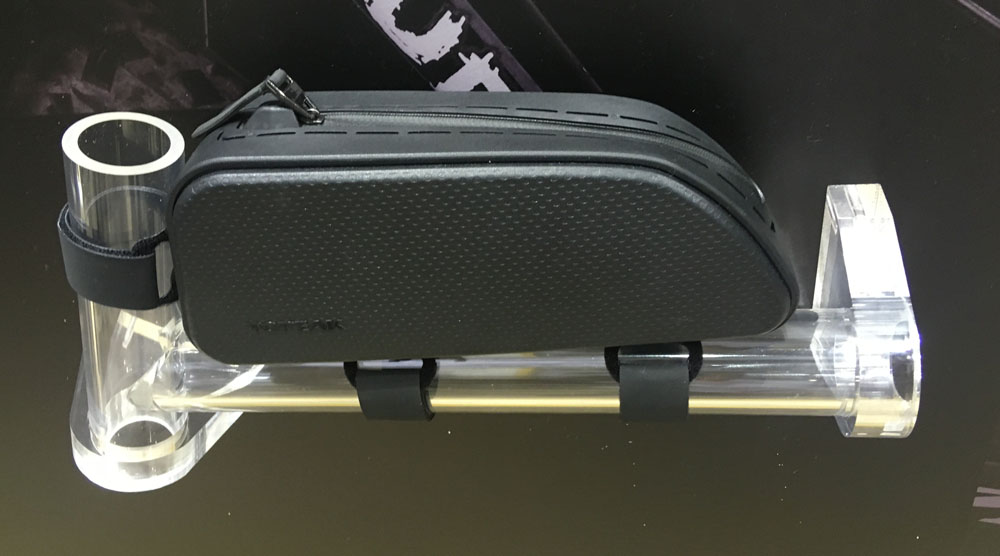 My favorite top tube bag is the Topeak TopLoader. Topeak have always offered a model with a sturdier shell, the FastFuel, which looked interesting but was too small for my needs. They're now launching the FastFuel X as a higher-capacity version (see photo), so I'll be trying to get hold of one soon.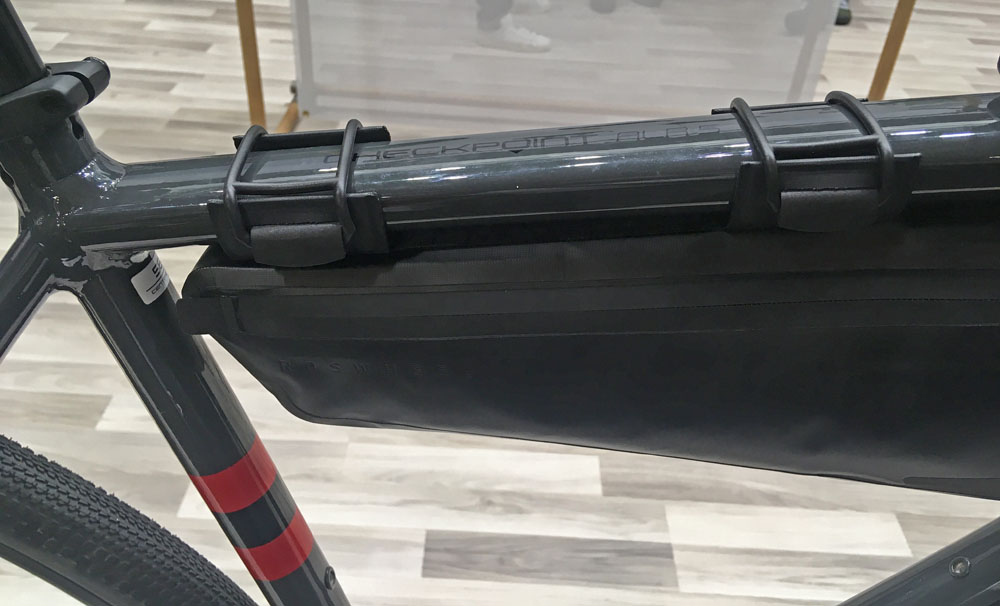 Roswheel is a bag brand that I wasn't aware of before but they had a very large stand showing off their various ranges of bags. It looks like well-made stuff and their 'Road' collection uses rubber straps to attach the bags to the frame instead of the more common Velcro (see photo). The mountain version of their rear bag has a useful stabilizer that clamps around the seat post, something that is becoming more and more common.

Bike Components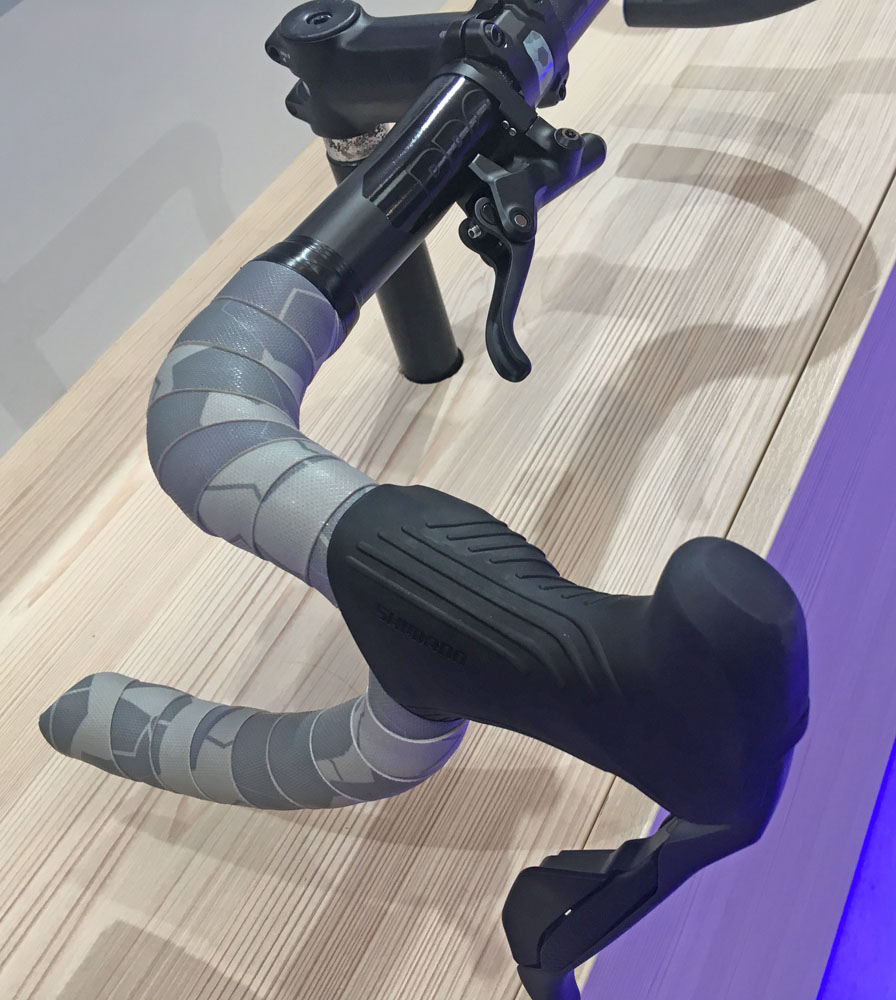 The details of Shimano's new GRX gravel/adventure group have been reported extensively elsewhere. One of the most interesting items for me is the interrupter/bar-top brake levers (see photo). I often use these with mechanical brakes, but there has previously been no way to use such a lever with hydraulic brakes.
Initial reports are that these levers work very well, so I've ordered a pair to test. The clamp band is somewhat flexible to accommodate variations in handlebar size and shape next to the stem, but I am worried that they will get in the way of aerobar mounting clamps, which is already a problem that I have with the mechanical versions that I use, but we'll see.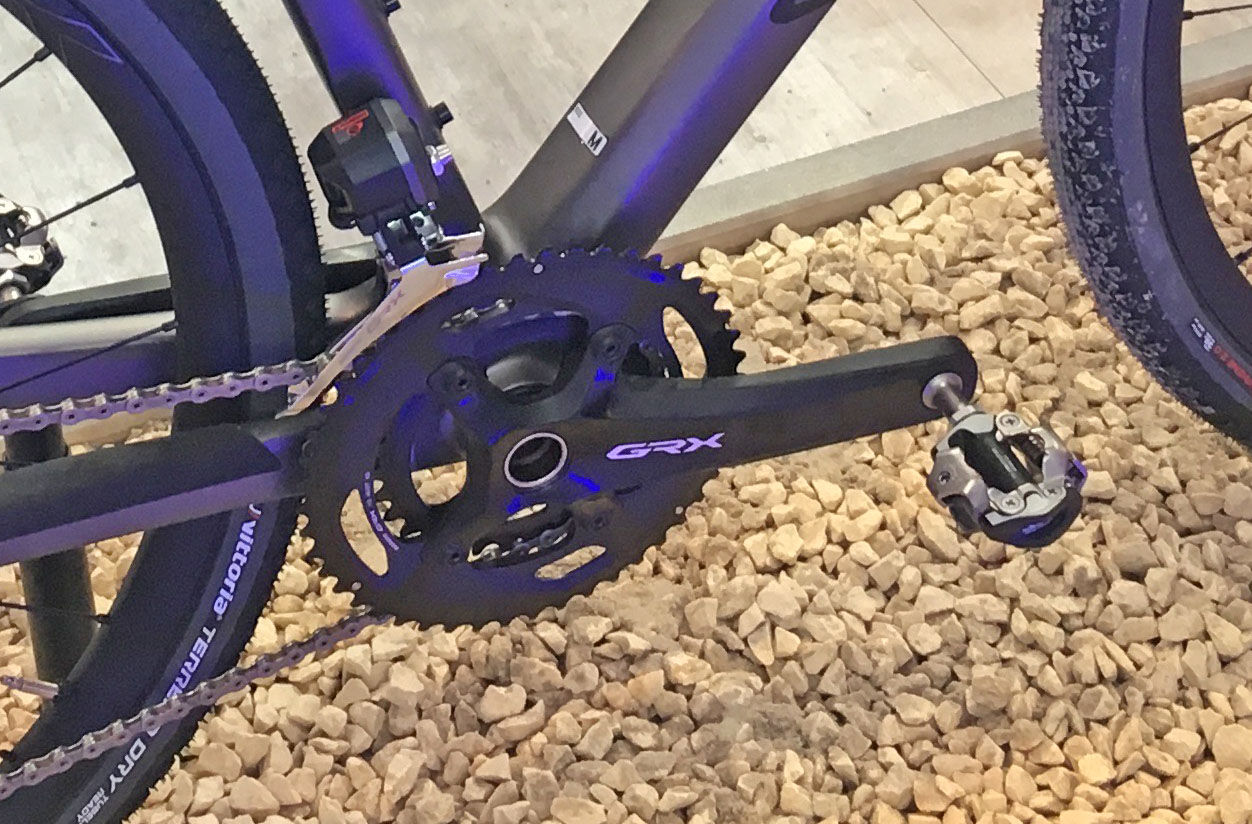 The Shimano GRX groupsets also include a 30/46 crankset (see photo, right) that I'm already using on two of my personal bikes with great success to get suitably low gearing for adventure and ultra-distance riding that often includes a lot of climbing. However, if you want such gearing without changing your current Shimano road crankset then Absolute Black offer chainrings for such cranks in sub-compact sizes, down to 30/46 (see photo, below-right). However, this might not be that much cheaper than buying a new GRX crank.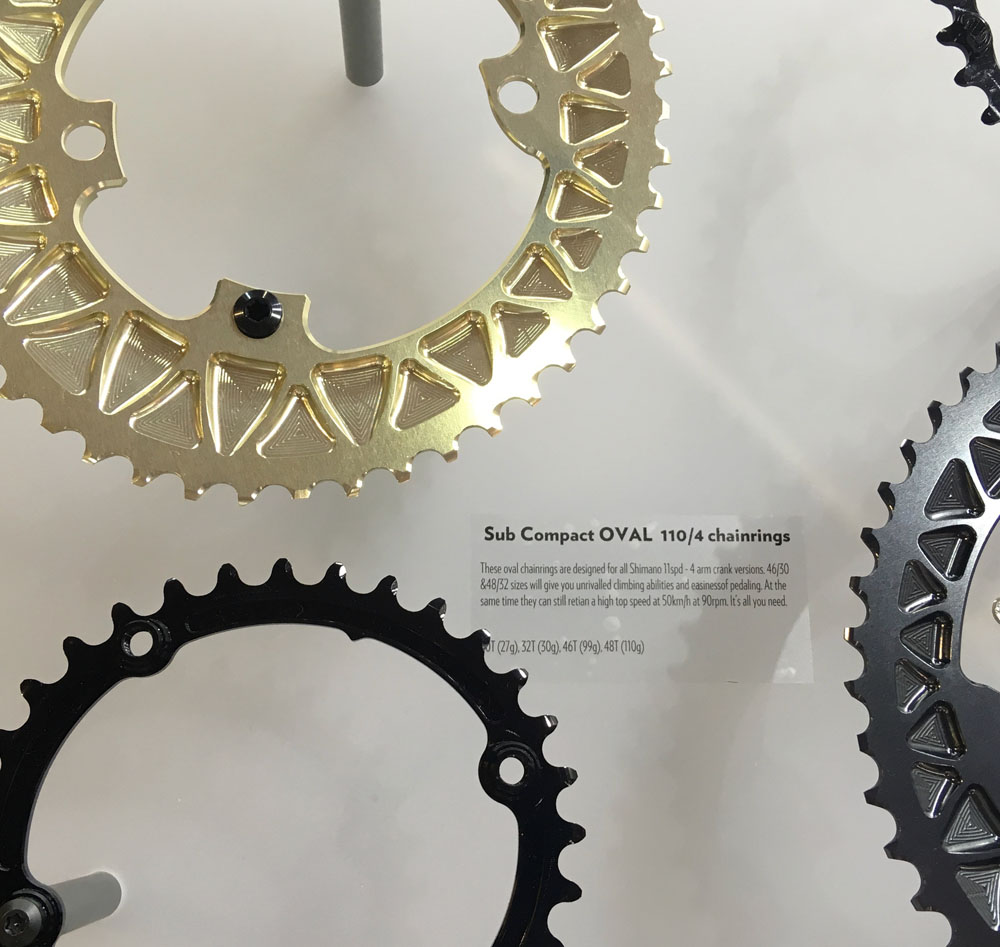 The independent tests that I've read on the efficiency of using oval rings were inconclusive, especially for this style of only minor non-roundness. Plus, if there was as strong of an effect as the manufacturers claim then no professional races could be won using round rings anymore because riders using the magical oval rings would apparently always have a massive advantage. The negative effects of using such rings include poorer front shifting and reduced longevity compared to using Shimano's rings. However, these rings do give another option for getting lower gearing (see here for other methods).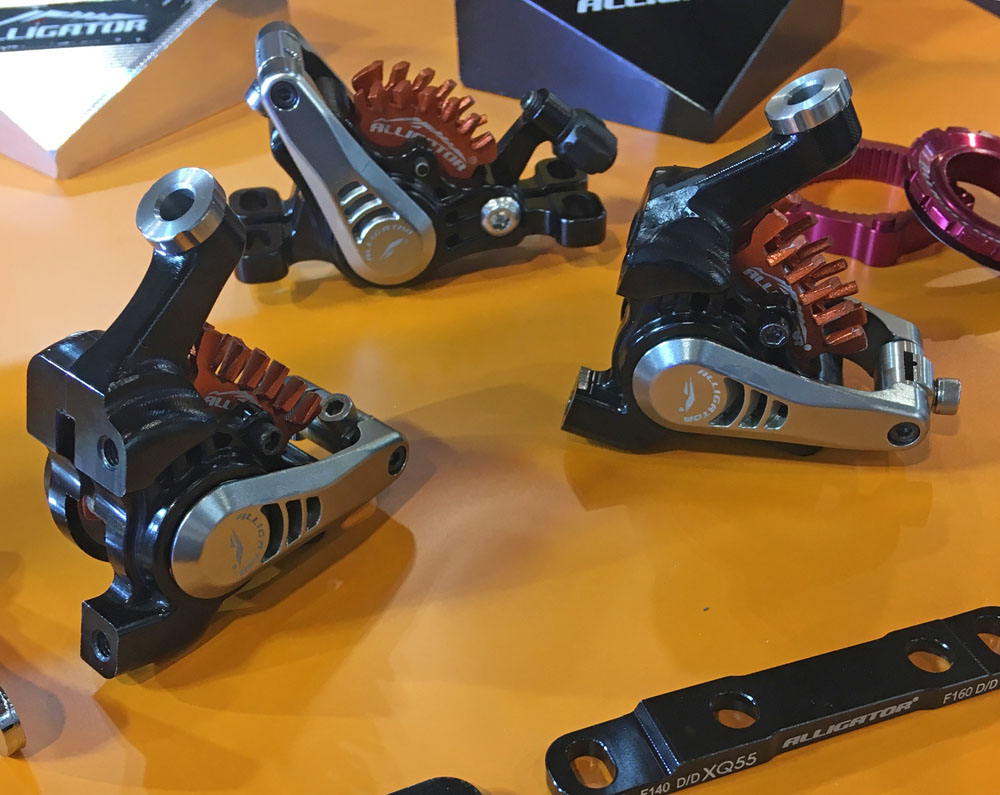 I'm a fan of mechanical disc brakes (because problems with hydraulic fluid can easily end a ride/race), so I was pleased to see another flat-mount disc brake available, this time coming from Aligator, who are better known for cabling and brake pads (see photo). The design looks similar to the TRP Spyres in that both pads move, but I couldn't see any screws to adjust pad position. I've been disappointed by the Spyres, so instead of trying these, I've ordered some Paul Components Klamper brakes and I'll hopefully be reporting soon on whether their high-end price is justified.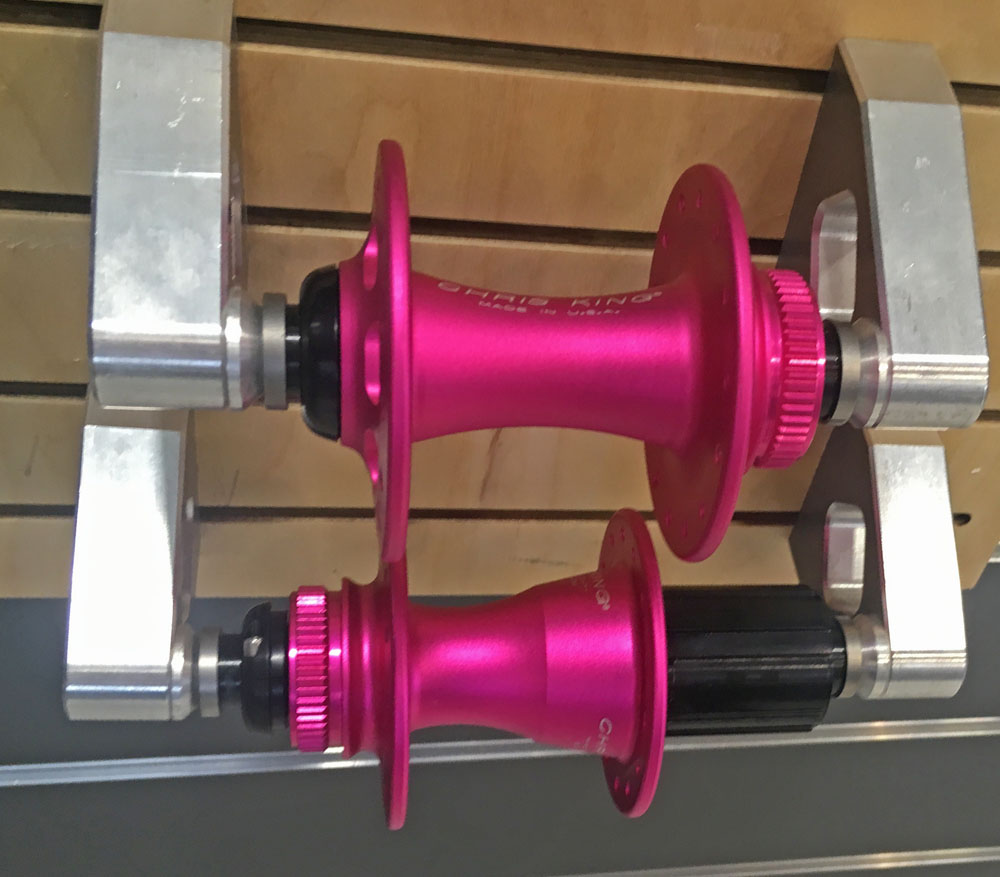 Oooh! Pretty pink hubs. I have a friend who would love a pair of wheels built with these beauties from Chris King. Their hubs are excellent quality and come in a variety of colours, versions, hole drillings, etc., but are rather expensive and the freehubs make a very loud, distinctive noise that isn't for everyone.

Clothing
The clothing brands generally have the most disappointing stands at Eurobike because they are designed to be meeting areas to schmooze distributors rather than spaces to show off their latest products. Website photos are pretty poor ways to show clothing materials and construction and few bike shops have enough customers to stock a reasonable amount of quality clothing options so I have no idea where in the world anyone can go to see a decent range of bike clothing in person.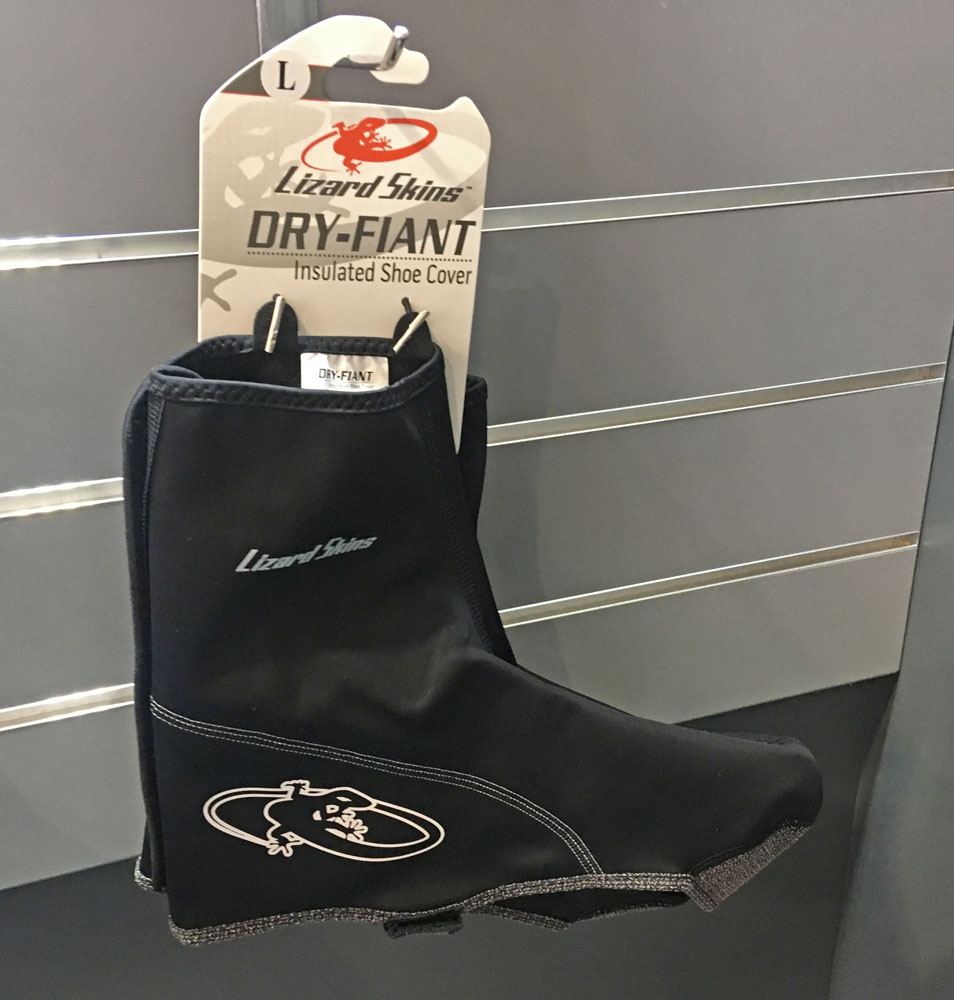 The one interesting clothing item that I did spot was on the Lizard Skins stand. Cold weather will be hitting the northern hemisphere soon, so shoe covers will be essential gear for Riding Far. I dislike how awkward most shoe covers are to put on, but Lizard Skins has the Dry-Fiant Insulated Shoe Cover that uses my preferred method with a simple strap under the foot and a full-length Velcro closure on the back. I've used a similar model by Vaude and the big opening makes sliding your booted foot in and out super-easy and the minimal material under the sole works well with MTB-style treads.

Bike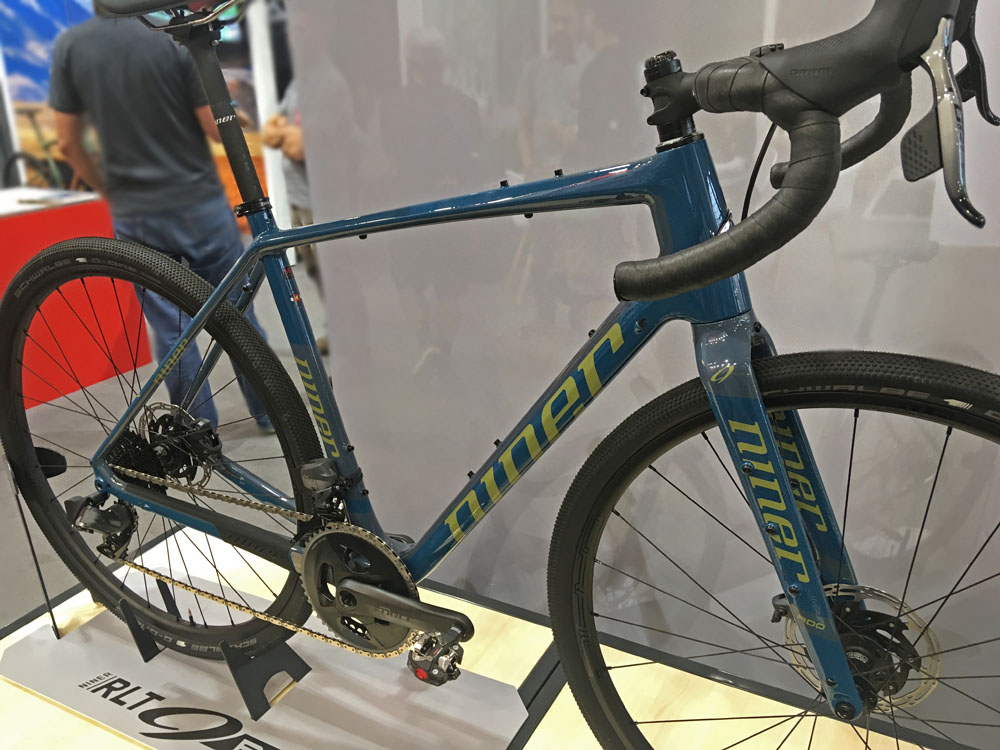 The only bike that caught my eye was this Niner RLT 9 RDO gravel bike. Most importantly, it has all of the attachment points that you could ever want (26 to be precise), which is rare on a carbon frame. The standard-size seat post, collar, stem, and front derailleur clamp mount make it reasonably easy to customize with any components you like, plus the PF30 bottom bracket shell is not too bad as far as BB standards go. They also offer similar versions of this bike in steel and aluminum, so there's something to suit most tastes.
Particularly interesting are the attachment points inside the main frame that allow their custom bags to be mounted without any straps. The fork also includes routing for a hub dynamo cable and a light mounting point on the front of the fork crown. Overall, quite a drool-worthy machine.

After-Show Ride
Living in Switzerland means that visiting the show is straightforward using trains and a ferry across Lake Constance and as always I combined the trip with some cycling in the region. Here's a shot from my bike ride along the Swiss side of Lake Constance and the Rhine river the next day (see details on Strava).