I'm excited to be starting my first ultra-distance bike race in 2 years next Wednesday, September 2nd, which will be around my beautiful adopted home country of Switzerland: the 2020 Swiss Ultracycling CHallange, or SUCH.

I was supposed to doing the Transcontinental Race this summer for my 4th time, but that was obviously cancelled. That had the positive effect of giving me time for a proper vacation with my wife, so we took our bikes to a few different parts of Switzerland and had a great time, but I still have an itch to go racing this year.

Route
The SUCH is an unusual race because there is no fixed starting point, only a finish line in front of the parliament building in the capital of Bern. Before reaching the finish, riders must pass through all 26 Swiss cantons (similar to counties or states). The country and most of the cantons aren't particularly large, so it should be possible in less than 900 km. This is the first edition of the race, so we're all trying to figure out what is the best route.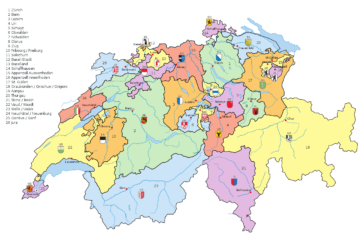 I've been living in Switzerland for 15 years and have ridden through almost every corner of it, so this is an ideal challenge for me. I've never had so little uncertainty about what to expect along the way and how to manage things logistically; everything is going to be so familiar and hopefully straightforward (but I'm sure there will be unexpected hurdles).
To make sure that riders do a bit more than just dip their front wheel into each canton, the original requirement was that people had to take a photo of a train station in each canton, which is not overly difficult because Switzerland has an extremely dense train network. But the organizers have now decided to not rely so much on electronic devices and have instead given everyone 26 pre-stamped postcards to mail one from each canton, either from a post office or a post-box that's near a train station. This has added some seemingly unnecessary complications and grey areas in the rules, but it hasn't really changed my planned route.

Following the Race
Everyone will have a GPS tracker so that people can watch our dots dance around the country, see this page. However, it's going to be an extremely confusing race to follow. With people starting from any train station they choose and moving through the cantons in any order they wish, where someone's dot currently is won't give much indication as to whether they're leading or struggling. Even knowing the number of cantons someone has ridden through isn't a great indicator because the cantons in some regions are much larger than in others.
The map will be interesting at the very beginning to see where everyone chooses to start from. After around 48 hours (Friday morning), a clear race to the finish in Bern might develop between the leaders. But the rest of the time the only indication that observers will have of someone's progress is whether their dot is moving or not. The deadline for getting to Bern is Sunday at 12 noon, so just over 4 days after the start at 10:10am on Wednesday.
It's going to be difficult even for the organizers to keep track of what's going on, but hopefully they'll post some summaries on the Facebook page and they'll be hunting down riders on course to post photos on Instagram.
Travel restrictions have kept the start list quite short, with 27 solo riders and 8 pairs listed, plus 2 relay pairs who will ride solo but hand over to their partner at some point. Standard rules for self-supported races apply. There are half a dozen people who are TCR veterans including last year's winner, the German woman Fiona Kolbinger, who will start with cap #1 and be the clear favorite.
I don't expect to be amongst the earliest finishers, but I've set myself a pretty ambitious schedule and am only going to worry about meeting my own goals and then see where I end up. I'm cap #22, BTW.
Terrain
After playing with a few different options of how to link up all the cantons, I discovered a route that was clearly superior to the others and I couldn't imagine any better alternatives in terms of distance, amount of climbing, or the timing of the more challenging sections. I'd been wondering whether everyone was going to settle on something very similar, but the one person who I briefly mentioned about one mountain pass that I'm taking was surprised that I'm using that pass and so is apparently planning something very different.
Because the cantons are larger in the more mountainous parts of the country, the amount of climbing won't be excessive. The high Alpine section only needs to be about 150 km long and my route has another 100 km in the lower Alps. Everyone will also need to cross the Jura mountain range at least once, but that won't be too challenging with a well-chosen route. However, there are not really any flat parts of the country, even the lower parts are endlessly rolling and there are some notable climbs even when following lakes and rivers, so the riding will never be easy, but nearly always interesting and beautiful.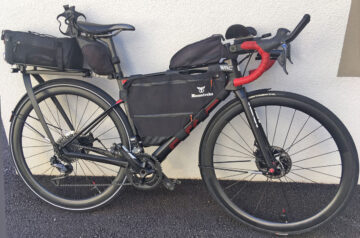 Bike & Equipment
Because this will be by far my shortest ultra-distance race yet (900 km compared to the 2000-4000 km I've done in previous events) and I'm quite confident about where to find all the resources I'll need along the way, I'm taking less stuff than ever. I've managed to fit it quite neatly onto my lightest and sleekist bike, a 2020 BMC RoadMachine. See my subsequent post for full details of the bike setup and a packing list.