I find one-piece cycling outfits in which the shorts and jersey are integrated into one item are the most comfortable clothing option for long-distance cyling, so I review three of them here. These outifts are marketed as causing less Air Resistance of the Cyclist than a separate jersey and shorts, but the superior comfort is the main advantage for me, which I also discuss on the Clothing page. I am not talking about time-trial skinsuits that have a minimal zipper and minimal rear pockets. Instead, the models I review here have a full zipper so that they open at the front as much as a regular jersey and have decent-sized rear pockets.
I've never found a pair of bib shorts that I was completely happy with because the bibs often pull on my shoulders, having extra material on my back is not ideal in really hot conditions, and the bibs make them cumbersome to take on and off. I'm also not a big fan of bib-less shorts, which eliminate the problems of bibs due to being held up by an elastic waistband, but this is not always super comfortable around my waist (despite being reasonably slim) and bib-less shorts don't keep the padded insert in the optimal position as well as bib shorts do.
Many cyclists aren't aware that there is a third way to hold up cycling shorts: integrate the jersey and shorts into one item. These outifts provide the ultimate in comfort for long-distance cycling and they are even easier to remove than a separate jersey and bib shorts (doing so involves one less step), and I haven't yet found any disadvantages. Over the past 3 years, I've had extensive experience using three different models, each of which I review below.
When choosing cycling shorts, many people focus on how high-tech the padded insert is (aka, chammy pad). Personally, I've been satisfied with the comfort of nearly all of the inserts that I've tried, including the three models reviewed below. On the Saddle Comfort: Saddle, Shorts & Tires page, I discuss that for me keeping myself and my shorts clean is more important than the specific model of padded insert.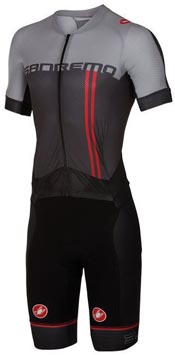 Castelli SanRemo 3.0 Speed Suit
I used the Castelli SanRemo for the 2014 and 2015 Transcontinental Races. The comfort is excellent, but aerodynamics were more important than durability when it was designed, so the hems and grippers on the legs and arms are very thin. Although they stay in place well, the leg grippers started to curl up after 10-20 days of use during training and in the race, which I've read several other people complain about. Also, the stiching between the sections of the padded insert started to come apart around the same time. The material on the back of the jersey is very thin, and so after more extensive use (during my second season of using it, after about 30 days), this started to rip where the pockets were attached.
Overall, I would give this top marks for comfort and very low marks for durability. The model I have is the SanRemo 3.0, but they've recently started to sell the SanRemo 3.2, which seems to have improvements to the parts that I found weren't so durable. There is also the Castelli Velocissimo SanRemo, which is in their slightly cheaper range. I expect this should be more durable than the top-end SanRemo because it uses more standard leg grippers and the material on the back is thicker.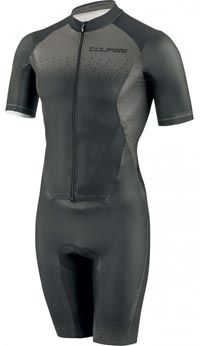 Louis Garneau Course Skin Suit
When looking to replace my Castelli suit in 2015, I found the Louis Garneau Course Skin Suit. The official sizing chart said that I definitely needed a small, but I probably should have opted for a medium to have a more comfortable fit because the small is quite compressive, which it is designed to be for improved aerodynamics.
It's similar to the Castelli in that the hems, seems, and materials on the Louis Garneau don't appear to be overly durable, they have instead been chosen to improve aerodynamics. Fortunately, having done about as much riding in this as I had when I started to find problems with the Castelli, the Louis Garneau has proved to be far more durable.
Unfortunately, the Louis Garneau suit only has two small rear pockets. I carry a minimal amount in my pockets (I always ride with a decent-sized saddle bag and top tube bag that I use instead of stuffing my pockets) but when I do need to use the pockets then these are not very convenient. I therefore normally only use my Louis Garneau suit on shorter rides of half a day or less.

Cuore Two-In-One Suit
I was still looking for the ultimate clothing to use for the 2016 Transcontinental Race (TCR) when I found the Cuore Two-In-One Suit. Unfortunately, it is not in their regular consumer range and is only available as part of their custom team kit. However, there is no minimum order quantity, so I contacted them and because I live in the country where they are based, Switzerland, they proposed to send me a sample.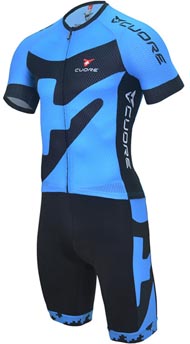 Most Cuore clothing is available in three levels: Bronze, Silver, and Gold, which vary in cost and material technologies. I said that I was interested in the Bronze, so they sent me a sample of the Gold. I didn't even try it on and explained to them that it was too much like the other aerodynamic and high-tech options that I'd tried whose durability I wasn't convinced about, in particular I didn't like the laser-cut hems and the tiny front zipper, which despite being full length, was miniscule and fiddly. I wasn't confident that this could stand up to multiple very long days of self-supported ultra-distance cycling, only occasionally getting quickly washed in a hotel sink. They therefore sent me a sample of the Bronze.
The Bronze Cuore Two-In-One was exactly what I was looking for: a fairly standard jersey and shorts that just happened to be connected together. The leg and arm grippers and the seams are fairly normal, it only has two rear pockets but they are large and more than enough for my needs. I've now used it for many long training rides and the 2016 TCR, it's super-comfortable and is still in great condition. It's the most comfortable piece of cycling clothing that I've ever owned – no more bib straps or elastic waistbands, a good padded insert, and it uses solid, durable materials. The jersey material is also lightweight, making it OK in the heat.
Because this model is not available in Cuore's regular consumer line, they said that I would have to give them a design which they would then transfer onto the outfit, which would cost alomst 200 euros extra. Fortunately, they agreed to make one that was almost the same as certain stock designs shown on their website, so they waved the custom design charge for me and I ordered two suits. I decided to take them both on the TCR so that I had something clean to put on every morning even when I slept outside every second night.
Unfortunately, the conclusion of this review is that the most comfortable cycling outfit that I've found is one that is not readily available to buy: the Cuore Two-In-One, Bronze version. Leave your comments below if you think that I should order a batch of these with some subtle Ride Far branding on and start selling them myself.