The Trans Am Bike Race (TABR, official website) is a self-supported, ultra-distance bikepacking race across the USA. The fixed route is about 4,300 miles (6,900 km) long and goes from Oregon to Virginia. The clock never stops and riders must find all of their supplies at commercial sources along the route.
Page contents:
[wp_ad_camp_1]
Overview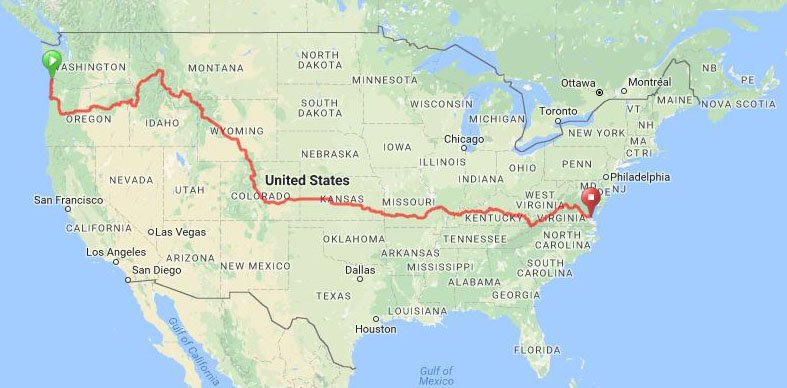 The route is based on the TransAmerica Bicycle Trail, which was developed by the Adventure Cycling Association for the Bikecentennial event in 1976. It runs from the Pacific coast in Astoria, Oregon to the Atlantic coast in Yorktown, Virginia, passing through ten states. For a stunning set of landscape photography from the route, see this post in the Facebook group.
Because the clock never stops, riders must choose how much time to devote to riding, resting, and refueling each day. Being self-supported or unsupported means that drafting is not allowed, receiving any form of support from other racers is not allowed, nor is it from friends or family; all food, accommodation, repairs, etc., must be purchased from commercial sources.
A typical equipment setup consists of a road/racing bike with a some small bags carrying a minimal amount of gear and supplies plus a good navigation device and good lighting (see Ride Far, Part II: The Bike).
Racer positions are monitored using GPS satellite-based tracker devices on participants' bikes that upload their positions to a website for racers and followers to view. Official reports and videos are posted online and many participants post updates on social media, which is centered around the Facebook page.
Racers reach the Newton Bike Shop in Kansas just after halfway through the race. The shop offers 24 hour assistance to all racers, including lodging, bike repairs, food and laundry. They have a webcam that broadcasts live video so that people can watch the racers come and go and see brief interviews with them.
Complete results can be seen on the official website. Below is a brief summary of each edition of the race.
TABR 2014
About 40 people started the inaugural race. The fastest of the 25 finishers was Mike Hall (UK) who is the organizer of the Transcontinental Race. He finished in 17 days and 16 hours (an average of almost 400 km per day), which is still the current record. Jason Lane (Canada) finished about 20 hours behind in second place, and Ed Pickup (UK) finished third. Juliana Buhring (Germany) was the first female finisher, in fifth place overall; she was also the first female in the Transcontinental Race No1, 2013.
The Inspired To Ride movie was made about the race, which provides an excellent insight into this style of racing (watch on Vimeo). Mike Hall and Ed Pickup did a presentation about their ride once back in the UK at Pivot Cycles.


Inspired to Ride from Mike Dion on Vimeo.
TABR 2015
The second edition of the race had 24 finishers, the fastest of whom was Jesse Carlsson (Australia) who finished in just under 19 days. Kim Raeymaekers (Belgium) and Evan Deutsh (USA) shared second place, over 35 hours behind Jesse. No women finished the race.
TABR 2016
About 60 people started the third edition of the race, which was the most dramatic by far. An Australian woman, Sarah Hammond, exchanged the lead with Steffen Streich (Greece) several times during the first week of the race, but she started to fall back in Colorado and eventually finished sixth.
An American woman, Lael Wilcox, was in the top five for most of the race. The tracker data shows that she started riding with Evan Deutsh about 2000 km into the race, and all reports confirm that they were adhering to the rules of being self-supported and not drafting. Lael left Evan with about 1000 km remaining to chase down Steffen Streich by herself. Steffen still had more than 4 hours lead going into the final night, but had only had one stop of more than 60 minutes in the previous 4 days.
Steffen stopped for 2.5 hours in the middle of the night, and Lael didn't stop so was then only 40 km behind but there was less than 200 km remaining. When getting back on the road, Steffen made a massive mistake and started to ride the route in the reverse direction. One hour later, he found Lael riding directly towards him in the middle of the night in Virginia. Lael reported that Steffen suggested that they ride to the finish together and share the victory, to which she said "No way, this is a race." Lael soon had a gap on Steffen and continued to increase it all the way to the finish, eventually winning by just over 2 hours. Evan Deutsh finished third. Lael described the story in this interview.
Lael's finish time was just over 18 days, only 8 hours behind Mike Hall's record. A third woman, Janie Hayes (UK), also finished in the top 10 out of a total of 42 solo finishers, plus 8 finishers in the new pairs category.
This race, along with several other impressive performances by female riders in other races, made everyone in the community realize that females may not have any disadvantages in this type of racing. Despite the fact that women are very under-represented in numbers at the start line, the best females can compete with the best males and sometimes beat them all. This is discussed in an article at Outside Online.
TABR 2017
54 solo riders and 4 pairs finished the 2017 edition. Evan Deutsch improved on his 3rd and joint-2nd places in the previous two editions to win this edition in a new record time of 17 days and 8 hours. See the official results.
TABR 2018
60 solo riders and 3 pairs finished the 2018 edition. Two people used fully-enclosed recumbent velomobiles, which have significant aerodynamic advantages over standard unfaired, upright bicycles and so are not allowed in most regular bike races and also not in most bikepacking races. Marcel Graber won the race using a velomobile in 16 days and 6 hours. The official results now include a separate velomobile category, with Peter Anderson being the first finisher on a standard bike in 16 days and 20 hours.
TABR 2019
As of September 2019, the official results have not yet been published, but Abdullah Zeinab is the unofficial winner according to the TrackLeaders data.
Last minor page modification: September, 2019
Last significant page update: September, 2019
---

This page is in
Ride Far, Part III: Bikepacking Race Information
.
---
---
---