There is a major recent trend for gravel bikes to be equipped with non-standard shapes of drop handlebars: flared bars, riser bars, and dual-level bars. The bike brands emphasize how their special bar design improves comfort or other criteria, but it's also just an effort by the brands to better differentiate gravel bikes from road bikes and to make their gravel bike stand out from the crowd.
I explain why I wouldn't recommend any of these odd handlebar shapes over using a standard drop handlebar of the preferred width and an appropriate-height stem. I instead give better solutions for how to achieve each of the goals of these oddly-shaped bars (improving control, position and comfort) while using standard drop handlebars (which look better and are more practical).
Flared bars – Wider gives more control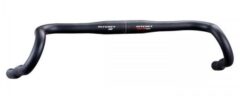 This is the most common non-standard shape of drop handlebar. The drops flare out wider than the hoods, sometimes subtly and sometimes extremely. The idea is that it gives a wider, more stable position when descending technical unpaved sections and gives more room for bar bags. Here's a list of things that I dislike about flared bars:
A lot of people keep their hands on the top of the brake lever hoods when they get into technical sections, which are the same width as normal, so the flared drops give them no advantage.
The drops should be the most aerodynamic riding position, but making the drops wider has a big negative effect on aerodynamics. Therefore, the drops shouldn't be any wider than the hoods position.
The flared drops makes the brake lever hoods point outwards at the angle of the flare, which puts them at a less ergonomic angle for the hands. One or two brands make flared bars that don't flare out until below the lever clamp, but this is not the case for most flared bars. The angled lever hoods can actually make the position of riding on the hoods be narrower than it would on a bar with a non-flared bar of the same width, which totally defeats the point.
Handlebar bags or rolls still don't fit well because the width of the hoods and hands are normally the limiting factor.
Better solution: If you want a wider riding position or more space for a bag then use a non-flared handlebar that is wider at both the hoods and the drops.
Personally, I ride 52 and 54 cm frames and use a standard 40 cm drop handelbar on most of my bikes except that I use a 42 cm non-flared bar on my gravel bike. 2 cm of extra width is all that I need and I don't find I'm lacking in control on technical sections.
Riser bars – Higher is more comfortable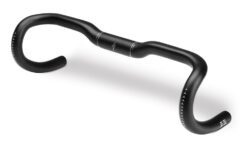 Specialized equip their popular gravel bike the Diverge with a "Hover bar" that rises up just after leaving the stem. The biggest disadvantage is the prime space for mounting accessories is lost, but it's also quite ugly.
The riser bar is supposed to give a slightly higher riding position which is more comfortable and gives more control, but the same position could easily be achieved with a stem that has less drop. The stem could even be flipped upwards or it might be possible to put more spacers underneath it. People will complain that these solutions look less cool, but to me I think the riser/Hover bar looks far less attractive and is certainly less practical for accessory mounting.
I'm a big fan of the Diverge gravel bikes and ride one myself and often recommend them to friends, but I always recommend requesting that the shop fits a standard bar instead of that unpractical and ugly Hover bar.
Dual-layer bars – Vertical flex is comfortable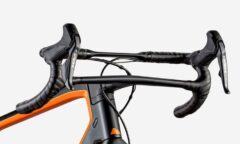 Canyon's Grail carbon gravel bike has a bar with two levels, with the stem integrated into the lower level and you hold the upper section. This should add some vertical flex to make the ride more comfortable, but there are major disadvantages:
The geometry and how the frame is measured is non-standard so buying the correct frame size is more complicated than normal. This can be a serious problem due to Canyon being an online store with no personalized sizing advice and it's quite complicated/expensive to change the frame size if it's wrong.
The possibility of modifying the position is extremely limited due to the integrated stem and bar and it would be expensive to buy a different model, meaning people are less likely to have an appropriate riding position. Again this wouldn't be as much of a problem if the bike was sold by a local shop that could make sure your bike was delivered with parts that fit you properly, but Canyon can't do that.
Again, that's a super-ugly looking bar that I wouldn't want on my bike.
Canyon make some decent bikes for very good prices and I have no problem recommending their aluminum gravel bike to some people, which uses a standard bar and stem. However, I wouldn't recommend the carbon bike to anyone simply due to the handlebar and the fitting issues that it can create. I'd be far less hesitant if buying the bike from a knowledgeable local shop with a stock of bar/stem sizes, but that isn't the case.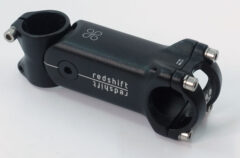 Better solution: You can greatly improve front-end comfort by switching your rigid stem for one with integrated suspension, like the RedShift ShockStop stem (see image). I've used one for a couple of years and find it to be fantastic (see my review). The Specialized Diverge is also an excellent bike with integrated front suspension (which I also reviewed). There are also some shortened MTB forks now sold for gravel bikes, but they change the bike's geometry and aesthetics and are often overkill.
Summary of better solutions
In summary, if you want more control in technical sections then fit a wider bar, but choose one that is wider at the hoods as well as the drops instead of a flared bar that is only wider in the drops.
If you want a more upright riding position then change your stem, flip your stem, or move the spacers around. Only if none of these options are possible should you consider a riser drop bar.
If you want more front-end comfort then add it to any bike by using a RedShift ShockStop stem or get a gravel bike that has integrated front suspension like a Specialized Diverge. Avoid the fitting and aesthetics issues caused by Canyon's carbon Grail.