The 2018 Transcontinental Race (TCR No. 6) starts Sunday evening, July 29th! Details of the route are on the dedicated page. There is also a page that gives overall information about the TCR.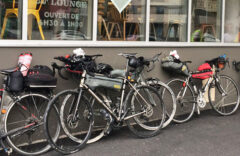 Above anything else, I'm hoping that this year's event passes without any serious injuries to any riders, because we've seen far too many tragic events in this and similar events in the past couple of years.
Following the Race
For a full list of riders and their cap numbers, see the official page; at the bottom of that page are links to some rider profiles. Unfortunately, not so many people submitted a profile description, but there are links to social media accounts.
The new site DotWatcher.cc is a good central resource for following the race, showing the map as well as highlights from social media and race reports. You can see the map directly at TrackLeaders and Free Route.
The official TCR Blog will also be posting updates during the race. A lot of race discussion happens in the TCR Facebook group and some announcements may be made on the official TCR Facebook page.
Men
There are now many other self-supported ultra-distance races on the calendar, but this is still the most respected, hotly contested, and probably hardest to win. Taking part and completing the race is more than enough for most people, but here I mostly concentrate on who might be expected to be close to the front end of the race. There are many event rookies who could do well, but no rookie has ever won the race (except in the inaugural edition), so I focus my attention on proven race veterans.

In the Transcontinental Race No. 5, 2017, race veterans James Hayden and Björn Lenhard had a great battle, with James finally getting ahead about two-thirds of the way through and holding that position to the finish. They are both coming back for another attempt and so are the two hot favorites. Björn again proved his strength by winning the 2018 TransAtlanticWay (TAW) race in Ireland in June for the second year in a row. James has posted his own race preview on his blog.
Bernd Paul was an early leader in the 2015 and 2016 TCRs, but both times had to scratch after a couple of days due to sun allergies. He's found the weather in Ireland more suitable for him, winning the TAW once and twice finishing second behind Björn Lenhard. I hope he can avoid any medical issues this time so that he can fight all the way to the finish.
Another strong competitor is Alexander Bourgeonnier, who finished 2nd in the 2015 TCR and was also in the top 5 in 2016 before scratching. Last year, Alex finished 2nd in the inaugural North Cape 4000 race between Italy and Norway. Matthew Falconer finished 12th in 2016 and 5th in 2017, so I expect he's hoping for an even better result this time.
Another one to watch is Stephane Ouaja, who is best-known for finishing in 12th place in the 2015 TCR on a fixed-gear bike. He's used a geared bike the previous two years and finished in 14th and 9th places. He's already done the Indian Pacific Wheel Ride in Australia earlier this year, so should be in good form for another top 10 finish.
Women
As always, the women's category is harder to predict than the men's. The first female finisher in the 2017 Transcontinental Race, Melissa Pritchard, has a great excuse for not riding since she recently had a baby with last year's third-place rider, Jonas Goy. The three of them will be at the start to send the riders on their way.
Despite there again being no previous female winners starting the race, there are a few women to watch out for. Meg Pugh finished third in a strong women's field in the 2018 TAW, so will probably be trying to push herself again. Isobel Jobling may also be one to watch out for since she has experience from doing the TAW and TCR in 2017 and has declared that she plans to race the TCR as well as wanting to finish. Karolina Maciejewska is likely to also be there to race since she's previously won some of the gran fondo rides that she's done.
Pairs
The pairs category is even harder to predict because people choose to enter that category rather than ride solo for so many different reasons. The category is also a riskier prospect because there is twice the chance that one partner will have a problem along the way that prevents the pair from finishing. I therefore won't try to make any predictions here.
Stories
The sharp end of the race always attracts a lot of attention while the event is running, but the best stories often come from the people further back in the standings.
For a bit of fun, you might want to keep an eye on Jonah Jones' dot. In the 2017 TCR, he became famous for trying to ride and walk up the wildest paths and trails, which didn't always work out as well as he'd expected when doing his route planning at home in Bermuda, so he gave himself the amusing nickname of "route muppet". He learned a lot from the experience, which may mean he gives less entertainment value for those watching him this time.
Mikko Mäkipää typically uses a far less conventional and often longer route than other people between the checkpoints and is also notable as being the only person to start every TCR and has so far also finished them all before the finish party. He has an extra day to reach the finish party this year, so we may see him take some more of his famous scenic diversions.
I'll be keeping an eye on the dots of many other race veterans that I know and cheering them on, and I look forward to learning about new characters and new adventures.
I'm looking forward to the dotwatching and I wish the best of luck to everyone! Ride Strong and Ride Far!