My ride report from the 2016 Transcontinental Race (TCR) is divided into two parts, with Days 1-6 below and Days 7-13 here. Please visit the Ride Far page dedicated to the The Transcontinental Race or the official website if you're looking for general information about the race instead of a personal race report.
Part 1, Days 1-6
Day 1: Geraardsbergen/Grammont (Belgium) – Loire valley (France)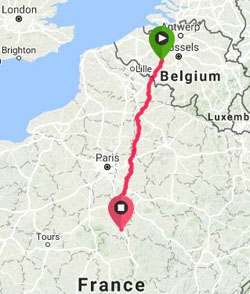 Distance
430 km
Climbing
2830 m total (7m / km)
Moving speed
24.1 km/h
Ride time
23.5 hrs incl. stops, 18 hrs moving
View on Strava
Shortly before 10 pm on Friday evening, 216 excited but slightly apprehensive riders assembled in the main square of Geraardsbergen (aka Grammont) where the mayor wished us all luck and sent us on our way across the continent. There was a neutralized lap of town before we were let loose to race up the cobbled climb known as the Kapelmuur, after which we'd all head off in our own directions.


Official video of race build-up, including brief appearance by me starting at 2:06.
I knew from last year how steep and narrow the climb up the Muur is, so I started reasonably close to the front and climbed aggressively to avoid getting stuck when everyone bunched up in the middle of the pack. There were more supporters in the town than last year and many were brandishing burning torches on the climb, giving it a special atmosphere.
My good friend Alain had done the race last year, and this year it was the turn of Jack to be the dot on the map who I knew best. Jack lived in Switzerland for a while several years ago and we met through mutual friends and then did some bike tour guiding together. He now lives in Brussels and had come to the start with me last year and got hooked on the idea of participating. Again, it was all my fault that someone else was doing the TCR, for better or for worse.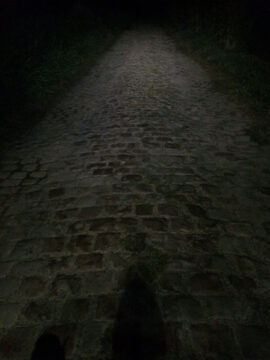 I found Jack just after summiting the muur. We'd independently chosen the same route out of town, so we rode together for the first few kms until our strategies diverged – he stopped for some pre-arranged accommodation and a short overnight rest while I kept riding. Just like Alain had done last year, Jack was being sensible and not treating this race as a sprint; in contrast, I didn't expect to be able to sleep due to all of the adrenaline from the start and also knew that I wouldn't need to sleep for a while and preferred to get a good chunk of distance under my belt that first night.
For half an hour or so, there were several other riders around who were weaving through the Belgian villages on the same route as me, but it wasn't long before I was alone. My first goal was 80 km after the start where there was a 3 km-long section of cobbles that is used in the Paris-Roubaix classic one-day professional bike race every Spring. I may never be in the region again, so I included this in my route because it only added a few extra kms. This section of cobbles is rated as having a medium level of difficulty by the Paris-Roubaix organizers (3 out of 5 stars) and is one of the earliest of the 30 such 'secteurs' for those racers, but they don't do it at 1:30am with just a couple of headlights showing the way. The cobbles were certainly rough, slightly worse than I'd expected, but they were rideable and no bike problems were immediately apparent, so I was happy that I'd experienced them.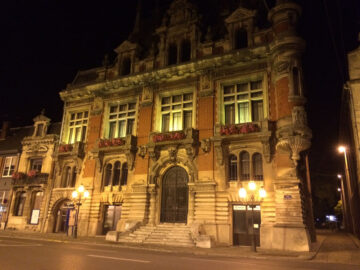 The cobbles put me on a trajectory slightly further west than most other riders, so I was pleased to spot a couple of taillights ahead after getting back on a more major road and I chased down one to say hello. It turned out to be Mikko, who is famous for taking unusual but interesting route options, so he was a little disappointed to hear that he'd missed his chance to ride some of the famous cobbles.
It was a good night of riding, fueled by energy bars and sports drink. I completed about 170 km at around dawn, which is when tiredness is normally worst for me, so I stopped for a brief sleep of about 1.5 hours. I then had some breakfast from my bags and got back on the road.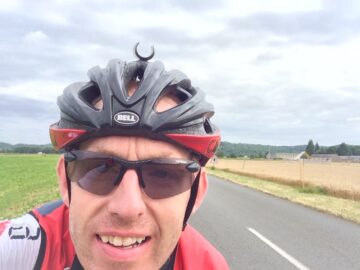 The one problem that I'd had during the night was that my fender had moved slightly, maybe due to the cobbles, and was occasionally rubbing my tire. After a couple of attempts, I had the fender repositioned correctly, but I wasn't yet aware how much of a problem this would turn out to be later in the race.
The first proper day of riding was reasonably uneventful as I made my way through the rolling French countryside. There were a few small climbs to tackle between crossing several of the major rivers in France, including the Aisne, Marne, and Seine, but my more westerly route meant that I was doing slightly less climbing than most others. I got to within about 50 km of Paris, but was nearly always on quiet, minor roads. In the evening, I found a McDonald's so took my first opportunity for some fast calories and used the bathroom to freshen up a little in preparation for spending another night outside.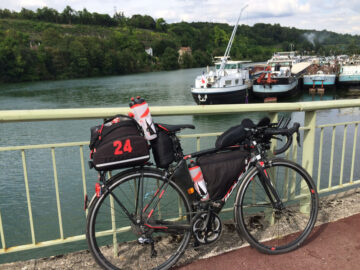 For the final part of that day's ride, I'd planned a route on more minor roads, but I decided that the big National Route 7 wouldn't be too busy at the end of the day, so I opted to take that. Once the sun was disappearing below the horizon, I'd been riding for almost 18 of the first 23.5 hours and was at the top of the ridge before the descent down to the Loire valley, which for me signified moving into a different region of France, so I decided to finish the day at a total of 430 km, a new 24-hour record for me.

Day 2: Loire valley (France) – Clermont-Ferrand (France)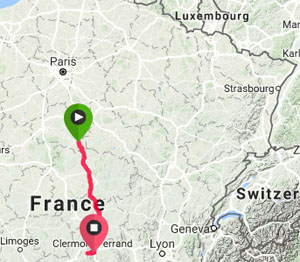 Distance
281 km
Climbing
2290 m total (8m / km)
Moving speed
23.9 km/h
Ride time
14.5 hrs incl. stops, 11.75 hrs moving
Previous night
8 hrs stopped, 6 hrs asleep
View on Strava
I had a decent sleep then got riding before sunrise and soon crossed to the quiet road on the far side of the Loire. While stopped for a morning snack, I found another TCR rider and then a local cyclist came by who was hunting down the TCR dots and so we chatted a little (see the photo just below).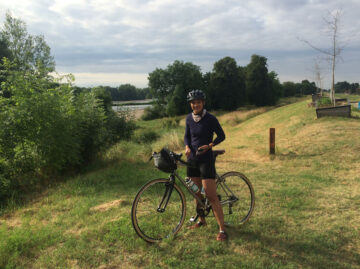 The terrain got hillier after I turned away from the Loire and headed up the valley of one of its tributaries, the Allier. It made for slower riding, but the roads that I'd chosen were again super-quiet. There's always a concern when choosing such roads instead of the main ones that I won't find shops to re-supply so easily; I still had a decent amount of food but needed water. Luckily, I spotted some public bathrooms and a water tap next to a park in a quaint village, so I stopped there for a picnic lunch.
To get to the first checkpoint in the city of Clermont-Ferrand, there wasn't much option but to take the main road for the final section, which meant that I started to see more riders again. Some of them stopped at the same McDonald's as I did for a late-afternoon refuel, including the Australian rider Ben May and we had a chat, mainly about his saddle problems. The poor guy had to change his saddle by the time he got to Switzerland, but thankfully still managed to finish the race.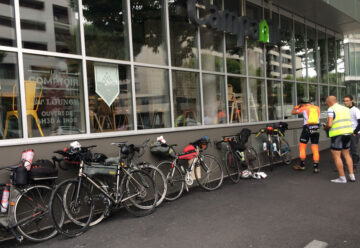 I paid much less attention to the tracker website in the first few days than I had in previous years because I know that a lot of people start out at a pace that they can't sustain. I had what I thought was a reasonably aggressive schedule planned for the first few days and stuck with it regardless of what others were doing or what position I was in. I was doing well and keeping up with my schedule when I arrived at CP1 at around 6 pm, but was only ranked about 87th of the 216 starters.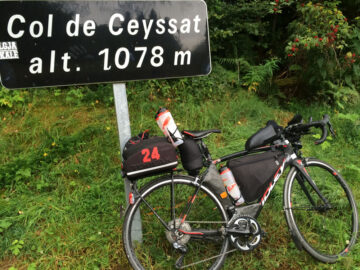 I didn't hang around at the control hotel, and instead quickly climbed out of town on the required route towards the col/pass next to the Puy de Dôme volcano. I'd visited several weeks before and had gone up the hiking trail to the ancient volcano's summit with time to enjoy it all. This time, it was a simple up and down and then through town to the far side where I'd booked a cheap hotel that had an Italian restaurant next door, again things that I'd found during my scouting trip. I got a big plate of pasta plus a pizza to take with me as the next day's fuel.

Day 3: Clermont-Ferrand (France) – Lake Neuchatel (Switzerland)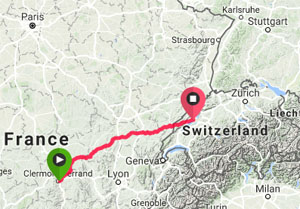 Distance
410 km
Climbing
3320 m total (8m / km)
Moving speed
24.1 km/h
Ride time
20 hrs incl. stops, 17 hrs moving
Previous night
8 hrs stopped, 4 hrs asleep
View on Strava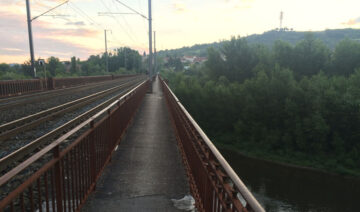 Most riders arrived at CP1 on Sunday afternoon or evening, so like me, stayed in Clermont-Ferrand or nearby. I figured that the more important factor than the time that your brevet card had been stamped the previous day was the time that you got on the road that morning and how fresh you were to put in another big day, so I was rolling by 4:30am. Many of the other riders that I met around Clermont-Ferrand seemed to be a lot more tired than me or having other problems, and I was still feeling quite fresh, so I decided that it was time to push it a little. My goal was to reach Neuchatel in Switzerland before midnight, when I knew that the grocery store at the train station would close, but that was 400 km away.
It felt great to reach 100 km by 9am, and the kms just kept ticking by. I stopped every 2-3 hours for some of the pizza that I bought the previous evening or something fresh from a bakery. I was again on magnificent small roads – I definitely plan to go back and spend more time exploring the backroads over the rolling hills of that southern part of Burgundy where the riding was fantastic.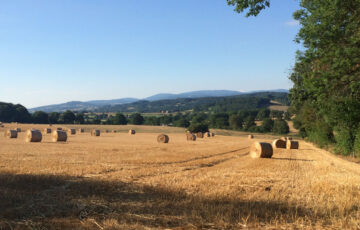 During the afternoon, I had to pull over when I heard air and tubeless liquid escaping from my rear tire. The liquid wasn't sealing the hole, so I inserted a plug/worm and hoped that it would do the trick. The tire lost so much air that the tire bead separated from the rim, so I wasn't sure whether I'd be able to get it to reseal with my pump, but luckily everything went OK and I was back riding soon and never had another problem with that hole.
It was almost 6pm when I finished a food stop in the last town before entering the Jura Mountains. I had a decent amount of climbing to do to get up to the plateau at around 900 meters altitude, and then there were some rolling hills until the Swiss border; the total distance to the border was 85 km. It was August 1st, Swiss National Day, and I wanted to see the fireworks, which I thought might start at 10pm, so that became my goal. I rode hard all the way and was feeling so good on some of the uphills that I started yelling at the road: 'Is that all you've got?' It seems silly looking back on it, maybe I should have been saving my energy, but I was having too much fun and just enjoying the ride.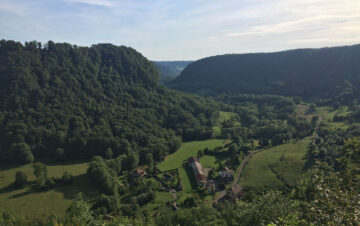 My aggressive riding allowed me to keep up with my schedule and almost immediately after I passed into Switzerland, the church bells sounded for 10pm and the hillside lit up with a big fireworks display – perfect timing! I then rolled down through the Val de Travers and past many fireworks that individuals were setting off. Upon reaching the city of Neuchatel at the end of the long descent, it was very lively with people celebrating everywhere and a surprising amount of traffic was trying to leave town after the fireworks had finished.
My target was the Coop Pronto grocery store at the Neuchatel train station, and I was overjoyed to get there with more than 20 minutes to spare before the midnight closure. To do so, I'd ridden 400 km in 16.5 hours on the bike across 19 hours of elapsed time. I savoured my midnight snack, which I certainly needed after having crossed the entire width of the Jura Mountains virtually non-stop for the previous 6 hours. In total, I had ridden 1120 km in the first 74 hours of the race, or about 363 km per 24 hours, which was again uncharted territory for me.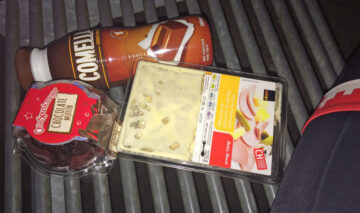 In terms of performance relative to everyone else in the race, this was by far my best day of riding. Looking back at the tracker data now, I can see that when I set off from Clermont-Ferrand at 4:30am, there were about 80 people ahead of me who had already left town, another 80 who were staying in and around the town who I was essentially level with, and less than 60 who hadn't yet reached the town. So I was clearly in the middle of the pack. Once I reached Neuchatel 19 hours later, there were only about 40 people ahead of me, so I had moved from being mid-pack into being where I wanted to be, just inside the top 20%, which is what I considered to be the front end of the race. I effectively held a similar relative position from there until the finish, moving up by a further 10 spots or so but that was mainly due to people who dropped out rather than me making any additional relative advancement.
After my midnight snack, I headed out of Neuchatel for about half an hour until I reached a wooded area on the north end of Lake Neuchatel that I've ridden past many times before and I knew would be an ideal place to bivvy for the night (I live in Lausanne, Switzerland, less than 70 km from Neuchatel, so I know the area quite well). This marked the end of the first chapter of the race for me mentally because the next day I would enter the Alps and so after three relatively flat days, the serious climbing would now begin and I would see how my body would respond.

Day 4: Lake Neuchatel (Switzerland) – Andermatt (Switzerland)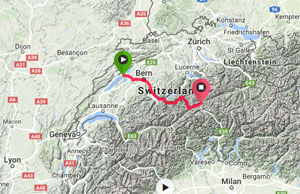 Distance
203 km
Climbing
4240 m total (21m / km)
Moving speed
16.9 km/h
Ride time
14.5 hrs incl. stops, 12 hrs moving
Previous night
5.5 hrs stopped, 4 hrs asleep
View on Strava

Official video from Checkpoint 2, including brief appearance by me starting at 0:33 plus my god-son Benjamin in the preview image.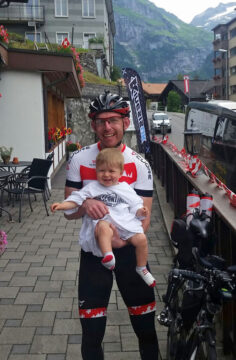 On the fourth day, I may have paid for my efforts of the first three days. It was hard to find the energy to get going in the morning and ride at a decent speed even on the easier, flatter parts of the route. I tried to eat a lot, but it didn't help much. It was good motivation that I was riding on Swiss roads that I knew and that I had friends meeting me at the second checkpoint in Grindelwald, where I expected to be around lunchtime.
Kate joined me on the road leading to the control in Grindelwald, and Lillie, her Dad and her baby boy, my godson Benjamin, were at the control hotel. Two more racers arrived soon after me at the control hotel: Karl Speed and Craig Boddice. It was great to see Karl because he is someone that Alain met several times last year and he finished the race a couple of days after Alain despite collecting some injuries and many stories along the way. We had chatted before the start and now it was clear that he was capable of a strong ride when everything went smoothly.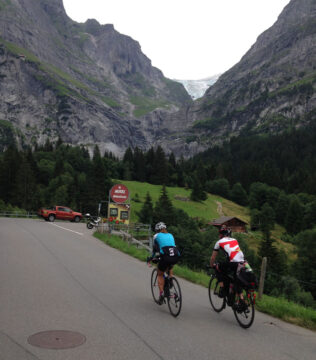 Lillie also had her bike, so five of us went up most of the steep Grosse Scheidegg climb together. The two girls were obviously far fresher, so while Karl, Craig, and I plodded along, the girls were occasionally sprinting ahead then waiting to get photos of us. The scenery around the Grosse Scheidegg is absolutely incredible, and fortunately I'd visited a few weeks before and taken some great photos, so this time I could just focus on getting to the top of the beast and not worry too much about capturing the grandeur in a photo.
Between leaving Grindelwald at about 1:30pm and arriving at the hotel that I'd booked for the night in Andermatt, there was 95 km and 3000 metres of climbing to do. I expected this to take a comfortable 7 hours, but I realized that it was going to be tough to meet that goal given the slow speed at which I was able to climb that day. I didn't want to lose time waiting for people at the summit, and I know that I can descend a tight, technical descent like the Grosse Scheidegg a lot faster than most people, so after reaching the top, I headed down almost immediately. Kate wanted to do the Grimsel Pass with me, so I told her that I was going to be super-slow for the first several kms of the Grimsel, trying to eat and recover a little, so she should enjoy the summit with the rest and take the descent easily because she'd quickly catch me once the climbing started again.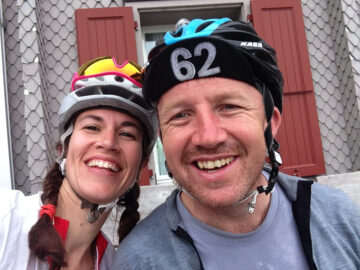 The 1300 metres of descent took 35 minutes that were mentally fatiguing because the rough, technical road required continual concentration. As planned, I started the 28 km climb up the Grimsel very gently and tried to eat to regain the energy that I'd been lacking all day.
After half an hour, I started to wonder why Kate hadn't yet caught me. The weather wasn't looking great ahead, so I hoped that she'd seen that and decided to turn left at the bottom to head back along Lake Brienz to where she'd started in Interlaken instead of turning right to follow me into the poor weather. I'd had no message from her, so I also started to wonder whether something bad might have happened. I wasn't sure what I should do, whether to go back and look for her, or keep climbing. I decided to send her a text message and keep climbing, but was even more worried when I still didn't get a response. It was quite a while until I received a message from Lillie to say that Kate had crashed on the descent and was going to hospital. It wasn't clear how serious it was, so it certainly kept my mind off of the tiring climb; the only positive thing being that I now knew that there was nothing that I could do to help.
I was relieved to finally get over the Grimsel Pass and into the Rhone valley, because it not only meant that one of my least favorite passes in Switzerland was done, the Grimsel, but also that only the shortest climb of the day was left, the Furka Pass. The Furka was the first big pass that Heather (my wife) and I did that is over 2000 metres altitude, and I have fond memories of that and other times that I've visited; it also has a steam train that runs along the valley and it was in a James Bond movie. So, it's one of my favorites and I finally knew that I could comfortably make my planned arrival time in Andermatt of 8:30pm.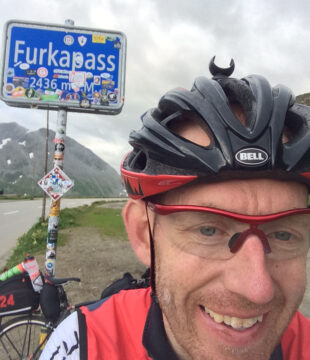 I took a couple of photos at the top of the Furka, put on my warmer clothes and headed down. It was just starting to get dark and there was also some light rain starting to fall, so I was really pleased that I was no later and I was hoping that the weather wouldn't get any worse for those behind me like Craig and Karl.
After the descent, there is a 10 km-long flat section before Andermatt, which I was struggling along because I had totally run out of energy and was very much looking forward to finding my hotel, getting an update on Kate, and having something to eat.
Just before Andermatt, a rider came past and we chatted for a bit. Given how tough the previous 100 km had been, the time of day, and the fact that the weather was getting worse, I was amazed that he planned to only stop for a quick meal before continuing up the next big pass and on into the night. I then recognized him as being James Hayden who was leading the race after one week last year when a condition called Shermer's Neck had prevented him from continuing. I'd read updates on the race's Facebook Group mentioning that he'd again had problems this year – an illness which caused him to take a lot of time off of the bike in the first few days – but he was now trying to get back towards the leaders. He ended up making it all the way back into an incredible 4th place – chapeau! (Potscript: He went on to win the race in 2017)
Once in the hotel with a take-out kebab to eat, Lillie told me that Kate had landed pretty hard on her face in the crash. She needed some stitches and had chipped a tooth, but there was apparently nothing serious wrong, so I sent her my best wishes and condolences and tried to get my focus back on the race.

Day 5: Andermatt (Switzerland) – Merano (Italy)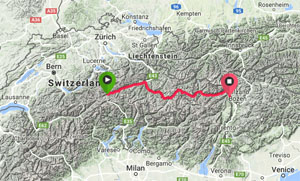 Distance
284 km
Climbing
3790 m total (13m / km)
Moving speed
21.1 km/h
Ride time
16.5 hrs incl. stops, 13.5 hrs moving
Previous night
13 hrs stopped, 7.5 hrs asleep
View on Strava
I hadn't had a lot of rest since the start and given my relatively poor performance in the first day in the Alps, I decided to get a good sleep, enjoy the hotel breakfast, and have a late start. A lot of the other people that I'd expected to be close to had only got as far as Grindelwald or the lower part of the Grimsel Pass by the previous evening, so I felt like I'd earned some rest. I also knew that a fair amount of people were heading south out of the Alps to get to checkpoint 3 in the Dolomites via a flatter but far longer route. I was taking the shortest route, straight across the Alps, so again had three passes to do that day that were over 2000 metres altitude, and so would need some more energy.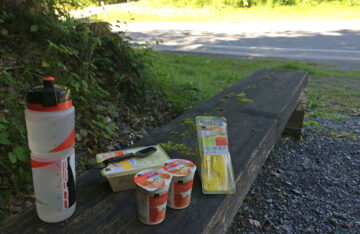 That is how I justified not leaving the hotel until 9:30am that morning – a total of 13 hours off of the bike, which is forever in this kind of race, but I needed the mental and physical break and mini-reset. It seemed to have worked because I felt quite decent climbing the first pass, which came straight away but wasn't too long, just 600 metres of vertical height gain in about 10 km. From the top of the climb, the next 50 km was generally downhill following the Rhine valley, so I tried to take it as easy as possible to continue my recovery. I'd done most of this road during a winter training ride, so knew where to find the next Coop grocery store to pick up all of my favorite lunch snacks, which I ate on a quiet bench in the woods a short while later. Lunch was also slow and lazy, and it was 2pm before I was ready to get going again. By then, I'd been out of race mode for about 18 hours, so I decided that it was time to turn it back on and get moving.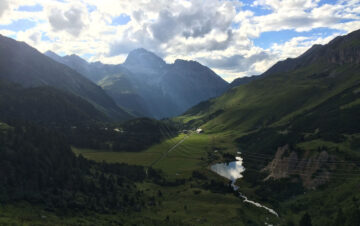 The next pass is another of my favorites in Switzerland, the Albula. The entire climb is 45 km long, although the gradient varies a lot during the first half and is it's only about the final 20 km that are continuously uphill. It passes through some fantastic and diverse scenery, including a steep-sided gorge, and in the second half a narrow-gauge train line corkscrews up the valley, crossing the road innumerable times. At the top of the pass is a fantastic high-Alpine plateau. The fact that this year's TCR route included two of my favorite Swiss passes, the Furka and Albula, was one of the main reasons why I decided that I had to come back to do the 2016 edition of the race.
Ever since entering the Alps, my left knee had been giving me pain when climbing or pushing hard. I'd experienced it before when I'd done a serious amount of riding with little rest and I knew that it would come and go and would often be better towards the end of the day when I was fully warmed up. Worryingly, it hadn't improved much during the previous day, so I decided to see if I could do something about it by varying the angle of my foot. I found a position that hurt a bit less, so I adjusted the angle of the cleat on the sole of my shoe that clicks into my pedal to make that the new default angle.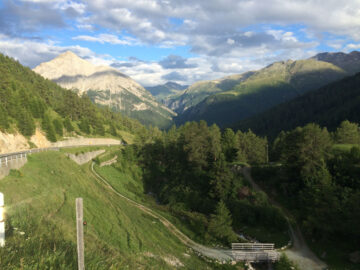 My new cleat angle seemed to be working and the rest and refueling that I'd been doing must have also helped because I felt significantly stronger on the Albula pass than I had on the previous four passes. Unfortunately, due to the late morning start, by the time I reached the Engadin valley on the other side of the Albula, it was evening and I'd only done 150 km (with 3,000 metres of climbing). It was therefore time to decide what my strategy would be for the next section.
I knew that I could easily find food and accommodation in the next town of Zernez or on the other side of the next pass in Val Mustair. Following that, I had a long stretch of riding in a wide Italian valley to get to the city of Bolzano. I know there is a bike path in that valley which is totally separate from the road, but involves several sections that are unnecessarily convoluted and make the riding slow. In contrast, the main road is a lot faster but can be very busy and quite unpleasant to ride on. Neither option was particularly tempting to be doing the next morning and I also knew that it would be getting really hot the next day down in that valley. My strategy therefore became to continue late into the night so that I could get most of the valley ride done using the main road as much as possible when it would be virtually empty.
Before the night ride, I needed some good food and so chose to sit down in a restaurant for the first time since Clermont-Ferrand, 3 days before. I was very pleased to find a simple restaurant in Zernez that quickly made me an extra-large plate of spaghetti bolognaise plus I had a big bowl of chocolate ice cream for dessert, all of which I thoroughly enjoyed. I also took the chance to check social media and send some messages to my wife and a friend. Night was starting to fall as I left town and I started to climb the Ofen Pass, but I was in a really good mood and was feeling stronger than I had in a while.
I soon realized that I'd forgotten to do one thing while stopped for dinner – check the tracker website to find out how far my friend Jack had got, because I knew he'd started that morning from Grindelwald. When I turned on my phone I was amazed to see that he was just coming into Zernez himself. I thought about turning around and going back 5 minutes to see if I could find him, but I expected that he'd be stopping there to at least eat and probably to sleep, and by the time I got into town he may have found somewhere and be hidden inside, so I decided that it would be best to carry on. However, I really regretted not looking at the tracker sooner because I could have waited a few minutes before leaving and caught him as he arrived to say Hi and see what stories he had and how he was feeling. Obviously his fitness was OK since he'd just managed to do a massive day with 5 big climbs – major respect! Unofrtunately, I didn't get another chance to see him until the finish.
The super-size portion of spaghetti bolognaise easily got me over the Ofen Pass and down into Italy. Once I hit the main road it was after 11pm, so it was nice and empty and I had 55 km to do to the next major town of Merano, which became my goal to get through before stopping to sleep. There are a few sections where the road bypasses towns and goes through tunnels which are forbidden to bikes, so I was hopping between the main road, side roads, and the bike path, all the way down the valley, which kept things interesting because it wasn't quite what I had marked on my GPS when doing the planning.
After Merano, I found a spot next to the strong-flowing Adige river to setup my bivvy bag and sleep. Even in the middle of the night, it was over 20 degrees C, so I slept on top of my sleeping bag, but being inside the bivvy bag was essential to keep the bugs away.

Day 6: Merano (Italy) – Drava valley (Austria)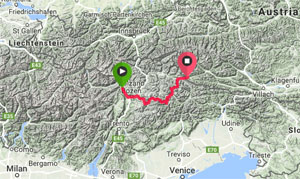 Distance
202 km
Climbing
4020 m total (20m / km)
Moving speed
17.5 km/h
Ride time
15 hrs incl. stops, 11.5 hrs moving
Previous night
4 hrs stopped, 3 hrs asleep
View on Strava
My alarm went off after just 3 hours of sleep at 5:00 am, but my body didn't feel ready to rise, so I lay there dozing for a while longer. The next thing I knew, there was a dog barking at me!
A man had been walking with the dog along the bike path when the dog decided to check out the wild thing sleeping in the bushes. I don't think the owner knew what the dog was barking at and quickly called it back. The barking was more than enough to ensure that I was fully awake, so I hastily got dressed, packed up and got back on the bike.
It was another early morning of slow pedaling, trying to eat some snacks, and getting back into the rhythm and saving energy for the 3 big climbs ahead. The first obstacle was the city of Bolzano. I needed to get from a riverside bike path on one side of town to a different one on the far side, and had plotted a route through some backstreets to make it shorter. Unfortunately, someone doesn't want cyclists to use this convenient route and there was a massive fence and locked gate blocking the way on the edge of the city. Fortunately, by heading 50 metres into the orchard on the side I found a lower section of fence that I could climb and lift the bike over. A local resident was surprised to see me doing this and seemed to be trying to point out an easier way to get around, but by that time I was almost over.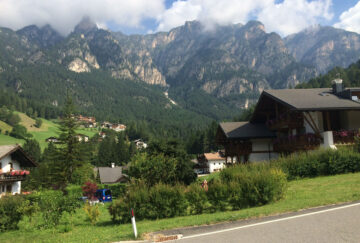 In the 2014 TCR, I had followed a similar trajectory but had taken a route out of Bolzano that included several long tunnels on a busy road. I was pleased that the organizers had banned that route for this year's edition due to the tunnels being legal for cyclists but not very suitable, so that meant that I could take a more interesting route without costing me any time compared to other riders. I therefore tackled the Passo Nigra, which rises 1400 metres in 27 km, but is far from being consistent with several very steep pitches in the second half. I was pretty sure that it would be the hardest climb of the day despite having the far more famous Passo Giau to do in the afternoon that was the official Checkpoint 3, and that is how it turned out.
Thankfully, the views going up the Passo Nigra made it worthwhile and it felt great to be back in the Dolomites. After a short lunch stop next to a grocery store in the next valley, I went up the Fedaia pass that goes along the base of the Marmolada mountain, which at 3,343 metres is the highest peak in the Dolomites. It's a climb that I've wanted to do for a long time, so I was pleased that I could include it in my route.



I briefly chatted with the volunteers at the control hotel for Checkpoint 3 before heading up to climb the Giau. It had been the hottest day yet, but fortunately since 9am I'd almost always been between about 1000 and 2000 metres altitude, so I had avoided the worst of the heat down in the lower valleys. I wondered how everyone else had been coping who had taken the longer, flatter, but far hotter option that stayed south of the Alps between CP2 and CP3. The heat did start to get to me while climbing the Giau, so I stopped a couple of times to cool down, and that is where the TCR videographer Francis Cade found me resting on a rock and did a short interview (see below).


Video log from Francis Cade, including an interview with me starting at 8:02.
The Giau was the 9th big Alpine pass out of the 9 that I needed to do, so I was celebrating mastering this toughest section of the route. My schedule had worked out well because I tackled 3 big passes per day for 3 days in a row. The really surprising thing was that I had felt better on each climb than on the previous one: less knee pain, more power, and generally better speed.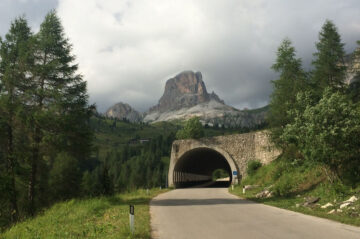 Climbing the Giau also brought back memories from the previous time that I'd done the climb, which was during the Maratona dles Dolomites cyclosportif several years earlier with my wife, Heather, and our friend Becky, so I thought about them a lot during the climb. The Maratona is one of the biggest cyclosportif (mass-participation) bike rides in the world, with over 9000 riders tackling multiple passes in the most beautiful part of the Dolomites. My friend Alain, the 2015 TCR veteran, now organizes trips that include riding the event, which my wife and I plan to join him for next year (see the Grand Tours Project website).
From the top of the Giau, I could see that the weather was starting to turn, with storm clouds brewing. I'd heard that there could be a lot of rain in the Alps starting the next day, so I was happy to get over the top and headed down quickly.
My fender had occasionally been rubbing on a small section of my front tire ever since the first night. I'd moved the fender a couple of times, but it was a deformation/bulge in the tire that was the main problem so I couldn't eliminate it entirely and had become pretty good at ignoring it. I knew it wasn't ideal, and thought about trying to find a bike shop in Cortina to buy a spare tire, but decided that I wanted to press on to get into Austria where I had a hotel booked for the night.
Out of Cortina, there was one more small, gentle climb before a long gradual descent down to the hotel. Halfway down the descent my front tire started losing air and the tubeless liquid starting seeping out of it. When I stopped, I saw that the bulge in the tire had become completely worn away by the fender and so the tire was no longer sealed. Putting the bald part of the tire on the ground and exerting pressure on it to stop the air escaping temporarily gave the sealant time to do its job, but when I tried to reinflate it I found that it wouldn't hold air if it had more than about 40 psi (less than half of what it needed). It was 15 km to the hotel, mostly along a dedicated bike path, so I decided to ride gingerly and decide what to do in the morning.
The frustrating thing was that I'd noticed the slight bulge in the tire when preparing the bike at home. I'd been using the tire for a few hundred kms before then and it hadn't been a problem and I'd seen a similar thing on another tire of the exact same model (Schwalbe Pro One Tubeless) that hadn't caused any problem, so I'd decided to leave it alone. I'd also recently written the bike maintenance and preparation section of my TCR Advice website and had noted that although some people have tire failures on the road that could not be fixed without having a spare tire, I didn't believe that the extra bulk of a spare tire was worth bringing on the TCR. I thought when writing it that I was now sure to need a spare tire during the race, and that prophecy had just come true! The only question now was how much time would it cost me to find a replacement?

---
This page is in the My Bikepacking Race Reports section. The next page in this section is:


---