This page contains information about the 2020 Transcontinental Race, which was originally called TCR No. 8, but was cancelled due to the disruption of the Coronavirus pandemic. In 2022, TCR No. 8 finally went ahead. See the Overview page for a general introduction to the Transcontinental Race (TCR). See also the official TCR page.
Timeline and Cancellation
Rough details of the original 2020 TCR No. 8 race were announced at the launch event at Look Mum No Hands in London, UK in late November, 2019. Registration was open for two weeks in November and December, 2019. Applicants were informed in early January 2020 whether they had been awarded a place.
Travel restrictions and lockdowns started throughout Europe in early to mid March 2020 and before the end of March the organizers announced that the 2020 TCR was being postponed for a year but the ongoing Coronavirus disruption caused that to again be cancelled (see the page 2021 Transcontinental Race (cancelled)).
Route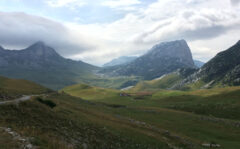 The start and finish locations from TCR No. 7 were to be used again in the 2020 TCR, but the direction would be reverted back to the traditional west to east format. The start had been planned for the final weekend of July 2020.
The total distance was expected to be similar to the longest ever TCR in 2015 of about 4,200 km. However, the amount of climbing would have been significantly more than in 2015 at over 40,000 m. The finish party was planned for the end of Day 15.
The 4 control points were as follows, and are marked on the map below.
CP1: Roubaix, France. The parcours included some of the classic secteurs of incredibly rough, cobbled farm roads in northern France that are used in the Paris-Roubaix professional bike race every Spring.
CP2: Grosser Speikkogel, Austria. The parcours involved one of the hardest paved climbs in the Alps with an average gradient of around 11% for at least 10 km. There was then a traverse along a ridgetop gravel road.
CP3: Durmitor massif, Montenegro. CP3 would have re-visited this stunning National Park in remembrance of the race's founder Mike Hall because he chose it as CP4 for Transcontinental Race No. 4, 2016. Racers would have passed through the dramatic Tara river gorge and then climbed over the remote, high mountains on a minor paved road.
CP4: Transalpina, Romania. The race would have visited a high pass in Romania's Carpathian mountains for the second time (the more famous Transfagarasan Pass featured in Transcontinental Race No. 5, 2017). This time it would have been the Transalpina road, but the parcours actually focused on a lengthy gravel/unpaved side-road.
The start location and CP1 were to be retained in the 2021 version, which was subsequently cancelled. For the 2022 edition, which did go ahead, CP3, CP4 and the finish location were retained.
Last minor page modification:
Last significant page update: November, 2022
---
This page is in the The Transcontinental Race section. The next page in this section is:


---